click to enlarge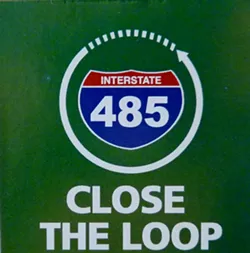 Gov. Bev Perdue promised to complete the I-485 loop. She promised!
Since then, the governor proposed an alternative funding method — which got the green light from Attorney General Roy Cooper.
But, one person Perdue doesn't have buy-in from is the state's treasurer, Janet Cowell. In fact, Cowell seems downright opposed to completing the loop. First she suggested the alternative funding method (used successfully in other states) might be illegal (it's not), now she's saying it might wreck the state's financial standing (which is in a good place).
But, from this stretch of I-85, it appears as if Cowell is really more interested in grabbing power and attention for herself than in finding a way for the state to finish what it began over 20 years ago. That's going to prove difficult for her in the Q.C. if she continues to throw up barricades when the state tries to do something about Charlotte's bumpy, pot hole-y, unfinished (hello I-485) roads. Charlotte is the crown jewel of the state, after all, and her roads need to reflect that.
Of course, Cowell may not understand just how craptastic some roads in Charlotte are — seeing as how she doesn't spend a whole helluva lot of time here. In fact, I've had a difficult time finding any mention of her spending any time in Charlotte at all (unless she's fund-raising for re-election of course). Do correct me if I'm wrong.
While it may be true she and Perdue are simply engaged in a straight-up cat fight, I'm hopeful all Cowell needs is a guided tour of Charlotte's streets — which, I'm sure can be arranged — to grasp our area's need for transportation dollars.
But, we could always take the issue of funding Charlotte's road construction and repair to the voters — surely Cowell wouldn't argue with the people's decision since she's bent on being our head servant and all. In fact, here's what the treasurer's Web site says about her love of democracy:
An Even Greater Appreciation for Democracy

In 1989 Janet had the opportunity to visit and study in China. During this trip the Chinese Democracy Movement erupted around her. This tremendous social struggle inspired her interest in American Democracy and public service in a new way. Forced as a foreigner to watch political events as a bystander, Janet decided when she returned to America that she would become an active participant in our Democratic system.
Interestingly, also on Cowell's Web site, she discusses her mission to protect the state's AAA bond rating and, under the same heading, her want to find "creative ways" to fund North Carolina's infrastructure needs. She even lists "strategically engaging in public-private partnerships," which is, um, what Perdue suggested — right?
Preserve our AAA Bond rating through prudent debt management

Managing the state's debt is critical in maintaining North Carolina's fiscal health and preserving our AAA bond rating which allows us to obtain a lower interest rate when we borrow money.

As one of the fastest growing states in the nation, North Carolina has tremendous infrastructure needs, including school construction, transportation, and new water and sewer lines. Janet will find creative ways to meet these needs by: identifying new and innovative ways of conducting the state's business; implementing efficiency measures; reallocating existing resources; strategically engaging in public-private partnerships; and, after these approaches have been exhausted, considering new or alternative sources of revenue. Debt should be used judiciously to protect the state's credit rating.
Certianly Perdue and Cowell can come to some sort of agreement here since it seems clear they both want to proactively face our states "tremendous infrastructure needs" while avoiding debt. Seriously, ladies, can't we all just get along?