Life is full of surprises. And so are reality shows.
Gastonia native Courtnee Mason, an up-and-coming model and actress, thought she'd been cast for a new reality show tentatively titled The Good Life, which would chronicle her life's extravagances. Well, that was very tentative, because when Mason arrived to Los Angeles with eight other young women, they realized that VH1 had something else planned. On Wednesday, June 9 viewers saw exactly what that was during the premiere of the new reality series You're Cut Off!
As the show begins, we see the nine women arrive to the Beverly Center for some high-end shopping. To their disbelief, they each find that their credit cards have been declined, and they are told to head to guest services to get it straightened out. Waiting for them is professional life coach Laura Baron. And so it begins.
click to enlarge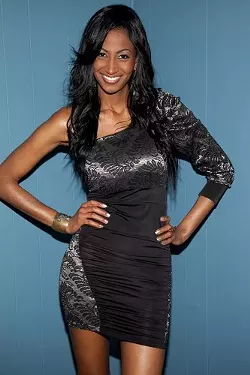 Each of the young ladies watch as a pre-recorded video message is played from their loved ones back home. "Courtnee, for the past 20 years you've been treating your mom and myself like an ATM," Mason's dad says. "You're cut off."
Baron tells the women to "Consider this princess rehab," as she explains the eight-week journey they're about to embark on. You'll get to see how it unfolds weekly on VH1, but we recently talked to Mason, 26, to get a little back story and to see how she's preparing to handle the notoriety that inevitably comes from starring in a reality show.
Creative Loafing: How did you become a part of the show?
Courtnee Mason: My dad got me. Next thing you know I'm getting a call. I originally thought it was a show about the good life.
What was the experience like?
Meeting eight other personalities was an experience unto itself. I learned a lot about myself. I learned that I can't become complacent with who I am. If I want something, I have to go and work hard for it. Nothing is really handed to you. You always have to work for what it is you want.
How do you think people will react to the show?
I hope that people will see that there's more to life than just material wealth and popularity. I think people are going to start digging inside themselves as to who they really are and what they really want to do with their lives.
Reality shows are known for notorious editing. Are you concerned about how you will be portrayed?
I think they will see me for me. I honestly think that I will be portrayed as Courtnee Mason. I'm not worried about anything else because I was being me, not doing anything extra.
Who is Courtnee Mason?
Courtnee Mason has a wonderful, outgoing, bubbly personality, loves to have fun, loves life, loves being around friends and people who love her. She's a go-getter. I love acting and modeling. That's my passion in life, and nothing is going to stop me from doing that. I love pageants, and that's what I do. Courtnee is an all-around big-hearted, genuine, loving person. That's me.
What reality shows are you a fan of?
The Bachelorette. I'm single so it would be great to meet guys who meet my standards, and have them already weed out the bad ones, and then pick from them. I would like to do I Love Money, because I love money. What can I say? Survivor, America's Next Top Model. I love reality shows, and I love TV.
More on Mason:
She has a theater degree from N.C. A&T. She's competed in numerous pageants, modeled for local magazines, and has landed small roles and appearances in TV shows such as House of Payne, Rules of Engagement, CSI Miami, Melrose Place, and 90210.
For more on You're Cut Off!, visit www.vh1.com. You can also keep up with Mason by following her at twitter.com/CourtneeMason.