click to enlarge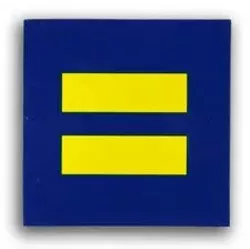 Many moons ago, I dated a guy with two mothers. We all lived in Montgomery, Ala., a place not exactly known for tolerating "others" of any sort. While I didn't have any problem with my beau's family, it became immediately apparent most people we encountered did.
Meanwhile, their family is much more stable and normal — whatever "normal" is — than most of the families with heterosexual parents I've encountered. In the family with two moms, the kids are down to earth, they excelled in school, they're kind and everyone pitches in around the house without argument. In fact, they're kinda dorky ... but I love them, they love me and that's all that matters.
But back in the day, when we went out in public together, I couldn't help but notice the mothers never touched. If you didn't already know, you'd never guess they'd been "married" for 15 years. That made me very sad, because those who know them also know their love runs pure and deep.
I talked to them about what it meant for them to come out of the closet. They told me that one of their families was supportive, but the other cut off all communication for years — which was heartbreaking. But, her friends rallied and, I'll never forget, offered this advice, "You're the same person now as you've always been. Your family loves you, and they'll come around." And, you know what? They did. By the way, 15 years later, the couple is still together and as in-love as ever.
Love is a precious thing. It's something to be celebrated, not judged. Individuality is also precious. You know what's stale? Conforming to ancient ideals of what we should all be like, of what society dictates is appropriate.
Few things are more painful than hiding behind what should be. That's why groups like the Human Rights Campaign support and sponsor days like today, National Coming Out Day ... because no one should live in fear of being their unique, beautiful selves.
If you'd like to celebrate locally, there is an "It Gets Better" event tonight in Charlotte. Here's the Facebook event page. Follow along with the festivities on Twitter with the #GetsBetterCLT hashtag.
A special message to those itching to sling Bible verses my way: I can counter you verse for verse — the good book's contradictory that way. So, before you choose intolerance over tolerance, first ask yourself "what Jesus would do?" — then read I Corinthians 13: 1-13, which ends, definitively, "Love is the greatest thing." Amen to that.
Stop judging. Stop hating. Start understanding. Start accepting others as is. Let love reign!
The "It Gets Better" campaign has a YouTube channel. Here's one of the videos that touched my heart today. And, remember, Jesus was a radical who challenged cultural norms and loved everyone equally.
Rhiannon "Rhi" Bowman is an independent journalist who contributes snarky commentary on Creative Loafing's CLog blog four days a week in addition to writing for several other local media organizations. Additionally, she's on the steering committee for the Greater Charlotte Society of Professional Journalists. To learn more, click the links or follow Rhi on Twitter.