click to enlarge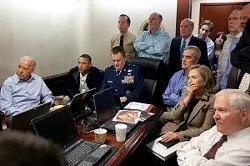 It's about 8 p.m. Monday night, and I'm still on Osama bin Laden assassination news watch, and have been ever since Twitter started buzzing about President Obama making some sort of announcement at about 10:30 p.m. Sunday night. (Read his speech here, which was given over an hour later, well after twitterers were already clued in.)
Apparently I'm far from the only one, as CNN — among many others — is still updating it's play-by-play blog, which reads a lot like a video game script.
An example:
[Updated 12:27 p.m. ET] Senior defense officials said that for a majority of the 40 minute operation at the Abbottobad compound, special forces were involved in a firefight - clearing their way through two other floors before they reached Osama bin Laden.

Bin Laden was not killed until the last five to ten minutes of the firefight, officials said.
While I'm pleased that we finally found bin Laden's mansion-like "cave," as — I'm sure — all of you are, a lot of what has been reported over the past many hours hasn't sat well with me. Of course, maybe I just need a nap.
I'm not going to get into the political bullshit that immediately started flying across the Internet last night. (Neither Bush, Jr., nor Obama pulled the trigger — mmmkay?)
And, I'm not going to talk about the amazing timing of this story — the night after Donald Trump was bashed at the White House's #nerdprom, during his Sunday night show, eight years to the day after Bush, Jr., declared "Mission Accomplished," on the anniversary of the announcement of Adolf Hitler's death announcement, at the start of the 2012 election season, as East Coast newspapers went to print ... I'm just sayin' is all ...
Neither am I going to judge the celebrations that went down. I understand why people were both elated and morose. Let's just remember the thousands who have died or been injured since 9/11/01 dawned, and let's recognize that this may be a painful time for their loved ones — all right?
Nor will I try to tell you that we shouldn't have "buried" bin Laden at sea, though I do find it fishy (pardon the pun) that his body was disposed of so quickly and so thoroughly.
I'm just going to point out a few things I've noticed in published reports over the past many hours. Maybe these discrepancies are typos. Maybe this is just the way major stories unfold when they're being reported as they happen in today's always-on media world. Maybe we're watching history books being written by the winners. I don't know. As I said, I'm just going to point out some things I noticed during my many-hour Osama bin Laden news binge.
For starters, in the middle of the night, PoliticalWire.com released a transcript of the White House's media briefing. The people giving the briefing were only listed as "Senior Administration Officials." (Why can't we know who was giving the briefing? Was it President Obama, Secretary Clinton, who?)
During that briefing, those officials said a U.S. military helicopter was destroyed after a mechanical failure:
During the raid, we lost one helicopter due to mechanical failure. The aircraft was destroyed by the crew and the assault force and crew members boarded the remaining aircraft to exit the compound. All non-combatants were moved safely away from the compound before the detonation.
Then they said it wasn't when a member of the media questioned them about it minutes later, during the same briefing:
Q Yes, hey, how are you doing? My question would be, what was the type of the helicopter that failed? And what was the nature of that mechanical failure?

SENIOR ADMINISTRATION OFFICIAL: Can't go into details at this time.

SENIOR ADMINISTRATION OFFICIAL: We didn't say it was mechanical.
Uh, OK.
(UPDATE: 10:30 p.m. The New York Times is reporting the helicopter stalled and was one of four involved in the mission.)
Meanwhile, a man who lives near where bin Laden's assassination took place actually live-tweeted the event without knowing the gravity of the situation. Here's how he described the same helicopter's demise:
Helicopter hovering above Abbottabad at 1AM (is a rare event).

people are saying it was not a technical fault and it was shot down. I heard it CIRCLE 3-4 times above, sounded purposeful.

And now, a plane flying over Abbottabad...

Report from a sweeper: A family also died in the crash, and one of the helicopter riders got away and is now being searched for.
Read the rest of his eyewitness account here. NOTE: If all of this went down at 1 a.m. Pakistani time, it was 5 p.m. EST — a full five and a half hours before President Obama called his press conference, even though the above picture is supposed to be of he and his team anxiously watching events unfold.
Of course, the U.S. government's official position is that they had airplanes in the air near Pakistan, but not in Pakistani air space — which would have been a no-no (The New York Times is reporting the planes were Pakistani) — and that the helicopter wasn't shot down. (Read "Bin Laden Mission Underscores Murky History of U.S. Raids in Pakistan" by ProPublica.org.)
Then we've got our government saying that no other government wanted bin Laden's body, so they spent an hour dumping his body into the sea:
[Updated 12:22 p.m. ET] Osama bin Laden's body was buried at sea according to Islamic law because no country was willing or able to take his body for burial on land, senior Defense officials said.

"Today's religious rites were conducted on the deck of the USS Carl Vinson in the Arabian sea. The ceremony started at 1:10am and finished at 2:10am ET," the second official said.
Assuming "ET" is referring to Eastern Standard Time, there's a time discrepancy here. The New York Times issued a news alert at about 4 a.m. EST Monday morning stating that bin Laden had been buried at sea. So, if the assassination took place at 5 p.m. EST, then, if my math's correct, the government still had quite a few hours before the clock ran out on the Islamic burial deadline. In another article by the Times, the military didn't leave bin Laden's compound with his body until 1:10 a.m.
Though, not surprisingly, not everyone agrees that bin Laden was buried in an appropriate manner.
From The Tuscon Sentinel:
Already, the Associated Press is reporting that "a wide range of senior Islamic scholars interpreted it as a humiliating disregard for the standard Muslim practice." An Iraqi cleric told the news service, If a man "dies on land, then he should be buried in the ground, not to be thrown into the sea. Otherwise, this would be only inviting fish to a banquet."

Given that for nearly a decade, the U.S. government has engaged in a multi-billion dollar manhunt for bin Laden, it has had ample time to consider what to do with the terrorist chief's body.
And, the paper points out, the U.S. government isn't exactly in the habit of paying close attention to burial rights, or getting them right when they do, and that they shouldn't have worried about bin Laden's grave becoming a shrine of some sort:
As the Guardian points out, the U.S. Government has not always respected the 24 hour rule. Officials held the bodies of Saddam Hussein's sons, Uday and Qusay, for eleven days after they were killed in a U.S. raid in 2003. The Guardian also suggests that the pilgrimage concerns may have been unfounded, noting that the Salafist Muslim tradition, to which bin Laden's followers ascribe, reject the idea of worshipping at a grave. "Even Saudi kings are buried in unmarked graves," the paper reports.

Al-Islam adds that if sea burial is the only option, "[the body] should be lowered into the sea in a vessel of clay or with a weight tied to its feet. And as far as possible it should not be lowered at a point where it is eaten up immediately by the sea predators."
Later in the day, The New York Times described his "burial" like this:
... the Qaeda leader's body was washed and placed in a white sheet in keeping with tradition. On the aircraft carrier Carl Vinson, it was placed in a weighted bag as an officer read prepared religious remarks, which were translated into Arabic by a native speaker, according to the senior Pentagon official.

The body then was placed on a prepared flat board and eased into the sea. Only a small group of people watching from one of the large elevator platforms that move aircraft up to the flight deck were witness to the end of America's most wanted fugitive.
No word on who made up that "small group of people," though it does sound as though our government planned to dump bin Laden's body in the sea all along.
As far as who shot bin Laden in the head, killing him ... at first, the government said it was a "U.S. military asset," and that ours was the only government involved. ("SENIOR ADMINISTRATION OFFICIAL: We shared our intelligence on this bin Laden compound with no other country, including Pakistan.")
[Updated, 11:33 p.m. ET] Osama bin Laden was killed by a "U.S. military asset," according to a senior U.S. official.
Then CNN said Pakistan was involved:
[Updated, 12:11 a.m. ET] Members of Pakistan's intelligence service - the ISI - were on site in Abbotabad, Pakistan, during the operation that killed Osama bin Laden, CNN's Nick Paton Walsh reports, citing a senior Pakistani intelligence official. The official said he did not know who fired the shot that actually killed Bin Laden.
Later, The Atlanta Journal-Constitution reported that it was an elite group of Navy SEALs — The New York Times says 79 of them — who took Bin Laden out, but no one can talk about them, not officially anyway:
Members are not allowed to talk about any aspect of the group still commonly known as Team Six.

A former Navy SEAL contacted by Business Insider told the website: "You know I'd love to help you man, but I can't say a word about Team 6. There is no Team 6."
There's also been some weirdness relating to how bin Laden's body was identified. CNN has reported that his wife helped to identify the body ... but she also died when she was used as a human shield. (Of course, he had more than one wife ...)
[Updated 12:27 p.m. ET] ... The official says one of bin Laden's own wives identified his body to U.S. forces, after the team made visual identification themselves.

[Updated 3:34 p.m. ET] ... Brennan said it is his understanding that the woman was one of bin Laden's wives, and that she "reportedly was used as a shield to shield bin Laden from the incoming fire."
And then ...
[Updated 9:10 p.m. ET] A senior U.S. official says that the woman who has killed during the raid on the compound where Osama bin Laden was found was not a wife of bin Laden, and that she may not have been used as a human shield as previously reported. A wife was there, according to an official, but not killed.
It's also been reported that he was identified using DNA samples — after his body was "buried" (The New York Times explains how here) — and by comparing the corpse to a photo taken by a Navy SEAL, which was uploaded for analysts to run through some sort of facial identification technology. (Again, The New York Times explains.)
No word, yet, on how badly damaged his face was when he was shot in the head, above his left eye ... that photo circulating on the Internet is a hoax, although some people are demanding one to serve as proof. (UPDATE: While writing this post, CNN updated its blog several times, including this: [Updated 7:15 p.m. ET] U.S. forces shot Osama bin Laden first in the chest, and then in the head ...)
You see ... this is how conspiracy theories get started, lots of little discrepancies and plot twists for people to pick on for ages; I'm sure there are more than what I've pointed out here. So, don't be surprised if there are Osama bin Laden sightings in years to come.
And this, dear readers, is why the case could be made that insta-news isn't always the best news, because the facts sometimes take a little while to shake out ... as is most likely the case here. Of course, insta-news may be a good way to keep our government in check since we do have all of these notes to compare.
It should be noted that part of the reason for the slow trickle of news is that those involved in the raid had to be debriefed and the loot they collected in bin Laden's compound had to be sorted. Or, if you're concocting your conspiracy theory, you might say the government is fleshing out their story and the so-called eye witness was an obvious plant! And, for those who have already honed your conspiracy theories, don't despair — people are still wondering if the U.S. and Britain actually killed bin Laden a decade ago in Tora Bora then lied about his death so they could keep playing war, see.
Only time will tell if the government's story is changing or if the news is simply still coming in. Assuming we eventually get the whole story — and, let's face it, we probably won't — we can decide then and rekindle our debates about whether or not it was worth torturing prisoners, if it was right to invade Iraq and why we didn't send in the Navy SEALs to begin with instead of engaging in a decade-long war.
For now, it's clear the patriotic drumbeat is thumping hard for many Americans, with some feeling as though justice has been served ... never mind that our brand of justice is usually served in courtrooms.
In related news, CNN is reporting that U.S. officials have revealed bin Laden's codename was the same as an Apache warrior's name, a warrior who tried to prevent the United States from taking over his tribal lands in the late 1800s:
A U.S. official says the United States' codename for bin Laden was "Geronimo."
Nice.
Yeah, there's a lot of fodder for conspiracy theories here. But, if the government's story — as pieced together as it is — is true, the world is down one madman, the Navy SEALs deserve our praise and we've got to decide what to do about Pakistan. We also need to decide if we should brace ourselves for retaliation, or if the government just wants us to stay perpetually braced.
Further reading, from The Daily Beast:
Are we really supposed to believe that Pakistan didn't know Osama bin Laden was living there for five years? Salman Rushdie on why it's time to declare the country a terrorist state.