click to enlarge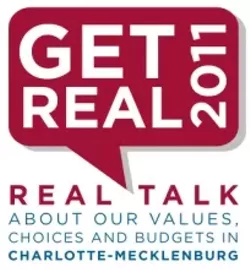 Earlier this year, Crossroads Charlotte — a nonprofit group interested in bridging the gap between various demographic groups and promoting social capital — asked the citizens of Charlotte-Mecklenburg to "Get Real."
With that, they invited people to meetings and, first, helped them understand how our local government works, then asked for their feedback.
The organization reports:
The Get Real campaign, conducted over several months earlier this year, involved surveying more than 700 participants in more than 75 workshops from 43 different Charlotte-Mecklenburg ZIP codes. The goal was to gather consensus about such issues as crime, poverty, housing, education and economic development.

The campaign narrowed a list of 18 prospective priorities to five overall, regardless of age, race, socio-economic status or ethnicity. They are, in order: Education (K-12); crime and public safety; economic development; affordable housing; and education (pre-K).
Additionally, the group asked local policymakers if they would be willing to listen to the wants and needs of their constituents. Many said they would be willing, but made no promises. The organization plans to make their findings available to those policy makers this week.
So, the question remains: Will our policymakers listen, and will they act in accordance with the wants and needs of the Charlotte-Mecklenburg citizenry? Or, will it just be business as usual?
Learn more about Get Real 2011, and review the findings for yourself, here.
Full disclosure: I am a Crossroads correspondent.