click to enlarge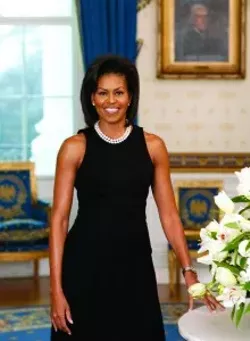 Welcome back to North Cackalacky, Mrs. Obama!
She won't be in Fayetteville, N.C., for a makeover of her own, she'll be there to help build a house — more like give her blessing — for a two-story house being built for female veterans.
Here's more from The Christian Post:
First lady Michelle Obama will be joining the crew of "Extreme Makeover: Home Edition" and a North Carolina non-profit to help build a boarding house for homeless female veterans.

Obama will be working with the team from the ABC television show on Thursday, according to the White House.

The building project will benefit the women of the Steps & Stages Jubilee House in Fayetteville. Several families will be able to live in the new two-story house, which will include a resource center, according to the Associated Press.

Barbara Marshall, a 15-year Navy veteran, spearheads Steps & Stages, Inc., a non-profit that provides transitional housing and permanent housing for women veterans.

Women veterans will be about 10 percent of the Veteran population by 2020, according to the Office of Veterans Affairs.

The first lady is participating in the project as part of Joining Forces, a program that supports service members and their families.
Read the entire article, by Nicola Menzie, here.
Constructions crews have already started work on the home, and Fayetteville residents are buzzing around getting ready for their V.I.P. visitor:

While most of Fayetteville slept Monday night, the small army of blue-shirted volunteers worked ceaselessly at the "Extreme Makeover: Home Edition" construction site.

"That's what it takes when you're building a home in a week," said Chip Smith, chief executive officer and president of Blue Ridge Log Cabins of South Carolina.

With tired red eyes, Smith lingered at the site until nearly midnight Monday, trying to do as much as possible. He checked and double-checked his lengthy mental to-do list. He met with volunteers, offering words of thanks and encouragement.

"When you see these hundreds of workers and volunteers, it's really humbling and it makes you want to do more, no matter how much sleep you've lost," Smith said.

Stories of sleep deferred were abundant from volunteers and spectators alike - many of whom worked their regular job Monday, then came to the site on Langdon Street.

"I went to work and then came out here just to watch," said Jose Paniagua, a Fayetteville carpenter. "But then they said they really needed carpenters, so I grabbed my tools and started helping."
Read the rest of this Fayetteville Observer story, by Brian Dukes, here.