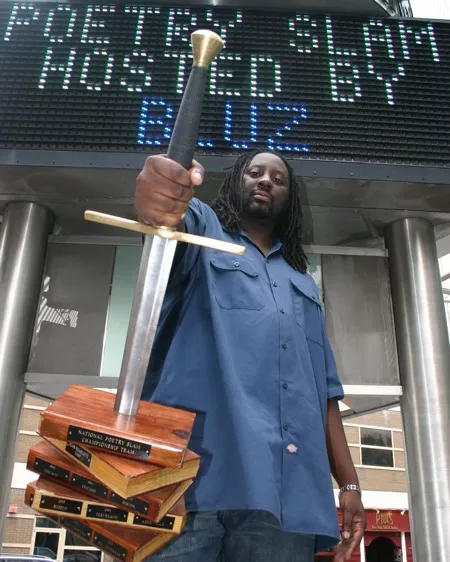 For years, many have pondered the question of whether the page is better than the stage. Boris Rogers, also known as SlamCharlotte's Slam Master Bluz, thinks that they are both equally important. As one of the founding leaders of SlamCharlotte - the Q.C.'s own nationally recognized poetry slam organization - Bluz was the 13th ranked individual poet in the world in 2007. "The overall purpose of poetry is to express the human condition in the best way that we know how," Bluz said. "We're all still human and we all just want to live and grow together."
Creative Loafing: What role has poetry played in your life and how would you like poetry to impact others?
Bluz: Poetry is pretty much how I live. I think it's been the most positive thing and driving force in my life. Ten years ago, I would've told you that I didn't think I would be doing poetry at this level, but here I am, and I'm thankful for every opportunity that I get. I want to show people that they can use their talents to further their career and not just be a starving artist. I don't believe in starving artists, I think if you do good work you should be able to benefit from good work. You just have to do what's true to you and believe in your heart and believe in your work.
Do you believe reciting poetry live is better than reading it?
I think that they are both very necessary. In terms of written poetry, I think the art form of actual writing and keeping things for record should never die, especially in this age of Kindles and Internet when people are putting books down and picking up electronics. In terms of poetry onstage, I think it is necessary because there is a sense of passion that can get lost inside of writing. There are so many emotions that get wrapped up inside of a stage performance that will really push the message out there.
What do you think it takes to be a true slam master?
You have to have patience, especially with the poets. They're artists, and at the end of the day, they can anything from emo to erratic to angry to passionate. You have to be able to deal with it all and still have a team that can create and do well at competition. It takes a great deal of strategy, as well. With a slam competition, you have to plot, plan and decide what will work in the competition. I have a lot of great poets and great work, so it's hard deciding what work I'll put up because it's all so good.
What advice can you give to aspiring poets?
Stay true to your story and stay true to your heart. It's ok to admire someone and be inspired by them, but in the end, find your own voice. That is the thing that's going to declare you as a poet and define your existence in this poetry world. Don't ever quit. You have to keep writing for you, and keep pushing. So don't quit, find your own voice and rock out. Don't be afraid to take chances.

Slam Charlotte will compete in the National Poetry Slam Competition in Cambridge, Massachusetts in August, shortly before beginning its new season and launching a new youth program in the fall. For more information on SlamCharlotte, visit www.slamcharlotte.com/home. To read more on Bluz, go to www.reverbnation.com/mrbluz