Occupy Charlotte, the local group standing in solidarity with Occupy Wall Street and the greater Occupy movement, is now 10 days old. (Read about day one here.) While they stand with the other groups, it is important to recognize that they are their own group and make their own decisions.
The group is loosely organized — and getting more organized every day — and does not have a leader. "We are all new and learning," said Tom Shope, a small business owner and the group's current spokesman. He emphasizes that the group is made up of individuals but is run by majority rule. He also emphasizes that they're still working out the glitches and asked for everyone's patience.
Within their first 10 days, the group has twice marched on Bank of America's headquarters and has set up camp at the Old City Hall at 600 E. Trade St. That camp, which began this past Saturday after a two-hour protest at the Charlotte-based bank's front door, marked the official start to the "occupation."
So far, Charlotte-Mecklenburg Police representative Robert Tufano said, "These folks have acted in a lawful manner and continue to communicate openly with our command staff."
The occupation is mostly symbolic and the people doing the occupying can vary day-to-day as their personal schedules dictate. Many of them are parents, most have jobs and quite a few are students. Expect the numbers to fluctuate daily.
With that, we're learning that there are now two governing bodies with the group. One is the General Assembly (GA); it is the governing body that will make the official decisions about upcoming protests and the like. The other is the Occupying Assembly (OA), which is responsible for day-to-day decisions that revolve around the camp and include such things as managing food and drink donations, weatherizing the camp, etc.
CMPD, whose main office is across the street from the occupation, is keeping a close eye on the occupiers, frequently stopping by to chat and positioning officers across the street 24-7. "Our role is to protect their right to demonstrate while maintaining public safety," says Tufano.
There was some confusion over the weekend when the OA voted to march on both tonight's Charlotte City Council meeting and tomorrow's Duke Energy rate-hike meeting. Shope says that since that vote was not brought before the General Assembly — which has been meeting on Saturdays at 3 p.m. for the past two weeks and plans to do so again this Saturday — those marches are not officially part of Occupy Charlotte since the entire group didn't have an opportunity to vote. (The OA is meeting twice daily — at a non-specific time in the morning and at 7 p.m. — and the GA is meeting weekly on Saturdays at 3 p.m.)
"We're not saying they can't march if it is their personal preference," Shope said, only that the GA didn't vote on the marches and so he cannot call them officially sanctioned by the larger Occupy Charlotte group.
And here is where an important distinction should be made: There are occupiers and there are protesters. Occupiers are the campers. Protesters are the marchers and the people who stand on the corner with signs. One person can be both an occupier and a protester. Everyone and anyone is invited to be either or both.
Concerns about media waking sleeping occupiers: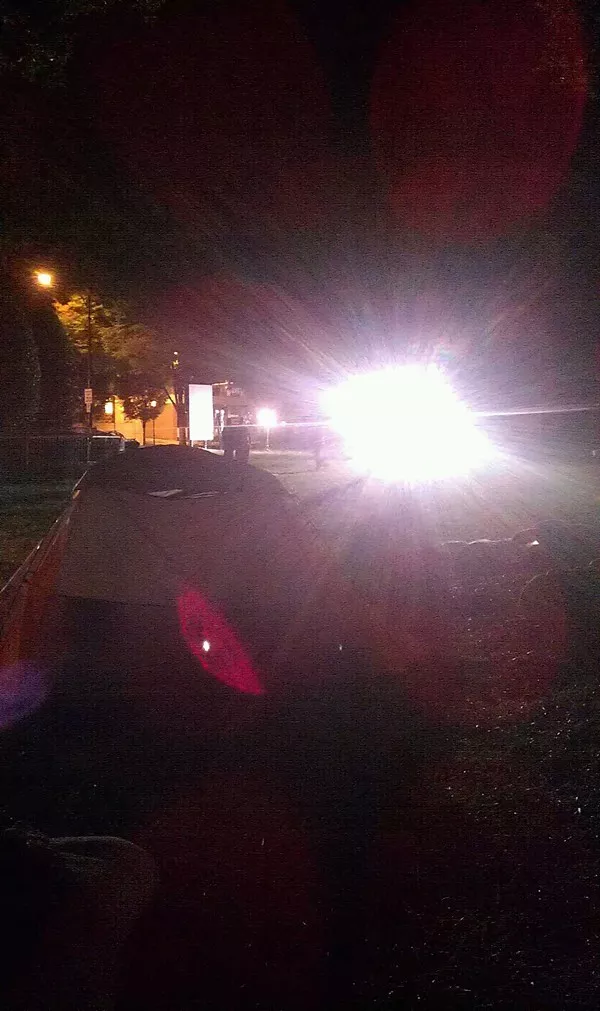 Television lights shining through a tent before 6 a.m. Sunday morning
I camped with the occupiers Saturday night
and witnessed television cameras shining lights on sleeping occupiers around midnight. Another cameraman, who was filming around
2:30 in the morning
, was more respectful and shined his light up into the trees and was careful not to wake anyone. Then, at around 5:30 a.m. another television crew began circling the block and eventually
set up at around 5:45 a.m.
They were joined by second television crew and, together,
shined bright lights into the camping area
for well over an hour.
This morning, according to the occupiers, a radio crew woke sleeping campers at 4 a.m.
"They won't even let them sleep," said Shope, who acknowledged that the campers are getting frustrated by being woken, though he understands that the media has every right to be in the same public space the group is occupying. Shope is concerned that the occupiers are being pushed for comments when they are not "fully awake."