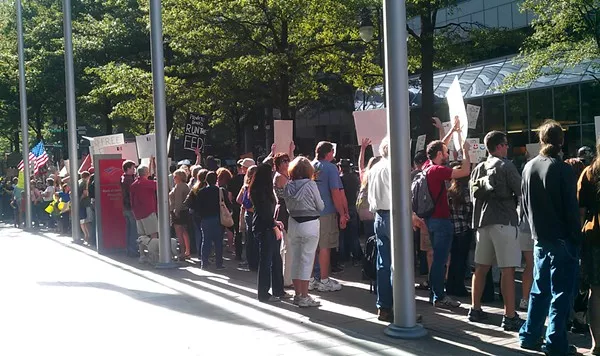 Protesters chant "Whose Streets? Our Streets?" in front of Bank of America's headquarters
For those of you unaware, I've been out of the country for a while. Upon my return last night, I stopped by Occupy Charlotte's base camp to find out what's been shakin' over the past week and a half.
I'd already read the news reports: Mayor Pat wants the occupiers out, the police said they couldn't have portable potties, their de facto leader got ousted and two people who were trying to join the movement on the fly got arrested for jaywalking.
What I wanted to know — and what I figure you want to know, too — is how these things have affected the campers. I'm also interested to know what a day-in-the-life is like for the campers, the intricacies of how their direct democracy system works (I can tell you now it's slow moving), how the message-honing is going, what their plans are for the future, and more. I'd also like to keep bringing you voices from the occupation — an in-their-own-words audio series we started the night the occupiers began camping, on Oct. 8.
Speaking of "more" — if there's something you're curious about regarding Occupy Charlotte, and you'd like me to ask, spill it in the comments and I'll try to find out for you.
During last night's visit, I discovered that the camp had grown. There were 24 tents on the night of Oct. 13; there are now around 40. The kitchen has moved and is larger and better organized. There's a notebook of meeting minutes at the group's information desk for people to sift through to get a feel for what they're proposing and discussing during their daily assemblies. And those daily assemblies now occur on Sundays, Tuesdays and Thursdays at 1 p.m.; Mondays, Wednesdays and Fridays at 7 p.m.; and Saturdays at 3 p.m.
For the foreseeable future, the group plans to hold an action — think "march" or "protest" — every Saturday at 3 p.m., launching from the Old City Hall at 600 E. Trade St. We hear the protesters may be in costume this week.
We'll be bringing you more of the straight scoop from Occupy Charlotte's base camp for as long as they're there — and, no, we're not sure how long that will be. Stay tuned.