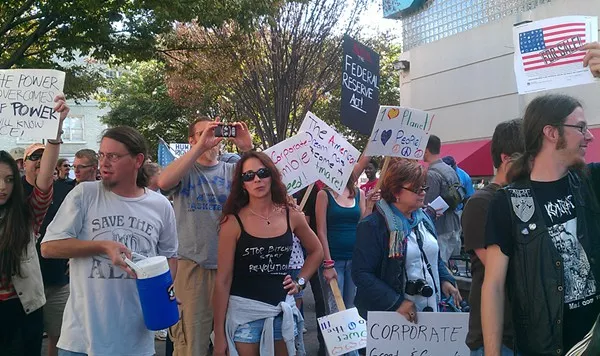 Protestors on Sat., Oct. 8, 2011
As promised in an earlier post, CL continues to bring you voices from the occupation of Charlotte — individual participants, in their own words, talking about why they joined the local Occupy movement.
On the first night of the occupation, Oct. 8, we caught up with Rederanged from Upstate South Carolina. He's a husband and father of a 1-year-old; he's searched for months for work and is feeling the burden of more than $20,000 in medical bills and he's about to lose his vehicle.
We asked him the same three questions we've asked others in our "in their own words" series: Who are you? Where are you from? Why are you here?
"I have to search for four to six months to find a job; I'm lucky to work for two months. Perfect example: Last year, while my wife was pregnant, I searched for a job — it took me around four-and-a-half months and finally found work in November, worked it for about two-and-a-half months and got laid off. I took everything from that job just so my family could have Christmas."
Listen to Rederanged in his own words:
Further reading:
24 Hours with Occupy Charlotte
Occupy Charlotte: Working Out the Glitches
CMPD holds Occupy Charlotte press conference
Listen to voices from Wednesday's #OccupyUNCC
Who are the 99 percent?
Oct. 1: The birth of Occupy Charlotte