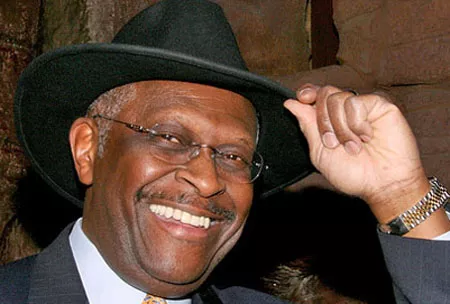 GOP presidential hopeful Herman Cain has been hit with a report claiming that he sexually harassed women in the 1990s while he was head of the National Restaurant Association.
The claim comes at a time when Cain's star is on the rise — for better or worse. Over the last month, he's been winning straw polls, taking attention away from once GOP favorite Mitt Romney. Just last week, his smoking-man campaign video went viral.
In the video, posted this week on YouTube, Cain's top aide, Mark Block, in a close-up, says the candidate "will put the united back in United States. … We've run a campaign like nobody's ever seen. But then, America's never seen a candidate like Herman Cain."

The kicker: Block takes a long thoughtful pull on a cigarette and blows smoke into the lens.

No one but villains has smoked onscreen for decades, so Block's drag quickly became the puff of legend. The video was picked up by political news shows and blogs and parodied on Comedy Central's Colbert Report. It scored more than 870,000 views on Cain's YouTube channel.

It was also awarded a slot on several lists of the wackiest political ads ever. Democratic consultant James Carville, echoing a pundit consensus that the ad made little sense, concluded Block was "drunk or stoned,'' he said Thursday on ABC's Good Morning America.
The Chicago Tribune reported that Cain has raised $3 million in October alone.
And now the sexual harassment.
In a statement to The Associated Press, his campaign disputed a Politico report that said Cain had been accused of sexually suggestive behavior toward at least two female employees.

The report said the women signed agreements with the restaurant group that gave them five-figure financial payouts to leave the association and barred them from discussing their departures. Neither woman was identified.

The report was based on anonymous sources and, in one case, what the publication said was a review of documentation that described the allegations and the resolution.

Cain's campaign told the AP that the allegations were not true, and amounted to unfair attacks.

"Inside-the-Beltway media have begun to launch unsubstantiated personal attacks on Cain," spokesman J.D. Gordon said in a written statement. "Dredging up thinly sourced allegations stemming from Mr. Cain's tenure as the Chief Executive Officer at the National Restaurant Association in the 1990s, political trade press are now casting aspersions on his character and spreading rumors that never stood up to the facts."

Asked if Cain's campaign was denying the report, Gordon said, "Yes."
Cain, whose staff hasn't responded to two email requests for interviews from Creative Loafing, is the former CEO of GodFather's Pizza and made his presence known nationally in GOP debates by focusing on his 9-9-9 economic plan.
Now he's facing the two words that can derail a political career — sexual harassment. It will be particularly difficult if this is how he plans to address it:
In its report, Politico said it confronted Cain early Sunday outside of the CBS News Washington bureau, where he had just been interviewed on "Face the Nation."

"I am not going to comment on that," he told Politico when asked specifically about one of the woman's claims.

When asked if he had ever been accused of harassment by a woman, he responded, Politico said, by asking the reporter, "Have you ever been accused of sexual harassment?"