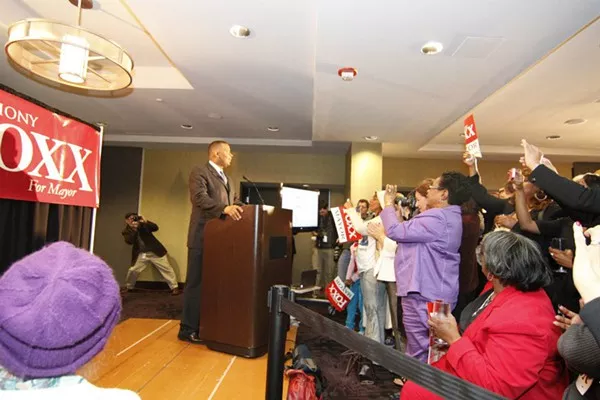 With the Democratic National Convention coming to Charlotte next year, any doubts about which political party dominates the Queen City were put to rest with Tuesday night's election results. It was a huge win for Democrats and included a few big symbolic victories as well.
Charlotte Mayor Foxx defeated challenger Scott Stone 67 percent to 32 percent, in a highly publicized race, confirming the mayor's rising star in North Carolina politics. Voters rejected the small-government conservatism of Stone, who had proposed cutting $72 million in city spending, privatizing services and stopping expansion of light-rail or the building of a streetcar line. Stone was a major underdog and was immensely outspent by the Foxx campaign.
Among the symbolic victories Tuesday were District 3 winner LaWana Mayfield, who trounced Republican opponent Ed Toney 78 percent to 21 percent. Mayfield was the first openly gay city council candidate ever to win a primary in Charlotte, and she is now the first ever to be elected to the Charlotte City Council.
Other symbolic winners were Beth Pickering and Claire Fallon. Pickering ran as an unabashed "rabid" Democrat and champion of those whose voices she felt were not being heard. Community activist Fallon, who decided to run after her husband of 42 years, Tim Fallon, died last December, ran as an outsider offering sharp critiques of uptown development proposals like the minor-league baseball stadium.
With Democrats squarely in power, Mayor Foxx is now well-positioned to push for issues most important to him, including expansion of light rail and the streetcar lines, and to continue his efforts to diversify the city's economy. The reelection of Mayor Pro Tem Patrick Cannon is significant, too, and his presence, along with incumbent David Howard, will provide experience and stability as the council faces some big issues as well as some thorny ones, including dealing with the DNC and the continued presence of Occupy Charlotte at Old City Hall.
"Foxx's victory is a tribute to what he has already done for Charlotte," said Aisha Dew, chairwoman of the Mecklenburg County Democratic Party. Said Tori Taylor, former executive director of the Mecklenburg County Democratic Party, "The people of Charlotte really believe in the mayor, and that his agenda is moving Charlotte forward.
"I think that definitely trickled down to some of our city-council and school board candidates," Taylor added. "The mayor did a really good job of engaging the base, and engaging a lot of folks who normally would not have gotten out to vote in this type of election."
In the city-council races, four at-large seats were openly contested by eight candidates, including four Republicans and one Libertarian, and Democrats took all of them. Winners were incumbent Cannon with 17 percent of the vote and incumbent Howard with 15 percent. Fallon and Pickering each won with 13 percent.

The defeat of incumbent councilman Edwin Peacock III, a moderate Republican endorsed by The Charlotte Observer, shows how much Tuesday night's results were a swing back to the left for Charlotte.
• In City-Council District 1, incumbent Democrat Patsy Kline defeated Republican challenger and weekly religious cable-access host David Michael Rice, 74 percent to 25 percent.
• In District 2, Democrat James Mitchell, Jr. ran unopposed and won with 98 percent of the vote.
• Mayfield ran a vigorous grassroots primary campaign in District 3 by knocking on thousands of doors, and those efforts propelled her into a general election race where built-up momentum and the makeup of her district produced a defining victory. "Mayfield worked really hard in District 3, and that effort seemed to carry over to other districts," said Taylor.
Her election-night success was not only significant because of the margin of victory, but also as a symbol of a more diverse future for Charlotte, and a hope for younger members of the LGBT community who one day would like to get involved in public life. "For me, personally, this really indicates a major step for the LGBT community in terms of somebody actually representing us and our interests," said Ramsey Brantley, a student at Charlotte School of Law.
• In District 4, Democrat Michael D. Barnes prevailed with 79 percent of the vote.
• In District 5, Democrat John Autry will replace the retiring Nancy Carter. With his 76-percent victory, Autry defeated Dennis Peterson, a local Tea Party leader, a group Autry recently referred to as the "something-for-nothing crowd."
• In District 6, the Republicans got on the board as Andy Dulin received 97 percent of the vote in an uncontested race.
• District 7 was also kind to the Republicans, with Warren Cooksey being elected with 98 percent of the vote in another uncontested race.
"There is not a race tonight I'm disappointed with," said Taylor. "The districts the Republican candidates prevailed in were ones in which they were expected to win, and ran unopposed. Those are historically more conservative districts like South Charlotte."