Some of the Queen City's cultural ties to its storied history will be lost, perhaps forever, when the Charlotte Museum of History closes its doors on Friday.
Declines in ticket revenue, fewer grants from the Arts & Science Council, less money from private donations and diminished cash reserves have left it in financial peril. The museum will spend the next four to six months developing a new funding strategy. But it is anyone's guess if it will reopen.
Long a destination for school children, residents and tourists, the museum's collection tells much of Charlotte's history and houses artifacts that illustrate the evolution of our community. It houses a replica of the Indian paths that intersected at Trade and Tryon streets that brought settlers and trade into Charlotte. It was where visitors could learn about Waxhaw, a town in Union County named after the Indian tribe that once occupied this part of the state.
It's also home to the Hezekiah Alexander House, which stands on the museums grounds, in east Charlotte off Shamrock Drive. Dating back to 1774, Mecklenburg County's oldest house is listed on the National Register of Historic Places. It is a historically significant example of a Revolutionary War-era home and features hand-laid rock masonry around its perimiter. Alexander, a planter and blacksmith, was a member of a committee that drafted the first State Constitution and Bill of Rights in 1776.
Losing touch with such important building blocks of the past gives way to a lost sense of connection to our region. Native Charlottean or not, these things should matter. They are what define us as Americans, new Southerners. They remind us we're a city with a story and a heritage that is worth preserving and celebrating. The lives and life's work of all who came before us deserve to be remembered, documented and studied. They fought for us and our way of life.
Surrounded by the ubiquity of big-box stores, fast-food outlets and chain merchants that strip the character and soul from the communities that they serve, American cities are losing their identities and individuality. Real history and its artifacts are worth fighting for. Preservation efforts that help distinguish our community are everyone's responsibility and can be accomplished by supporting them financially.
The closing of the museum says more about our future than it does about our past. But how can we know where we are going unless we know from where we came?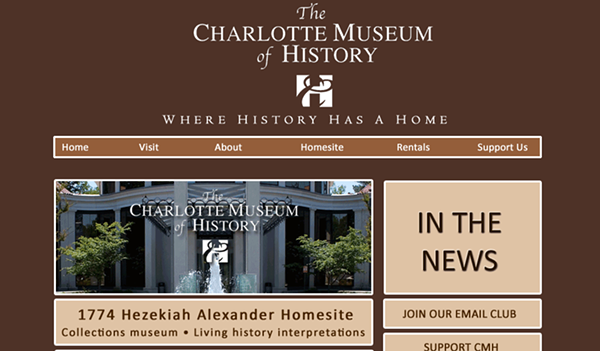 Charlotte Museum of History