Hello. My name is Corbie Hill, and I'm a huge Star Trek fan. Don't call me a Trekkie or anything - I have a life, you know - but the long-lived, socially conscious space opera franchise has been an important part of my life since before I can remember.
You should see my toy starship collection.
Only a few years ago, I was the joyless cliché of the Trek fan so ingeniously mocked by this Onion short, griping about J.J. Abrams' 2009 recasting of the 1701 crew and redesigning of the Enterprise without bothering to see the film. When I finally did, at my friend Dan's urging (he's a Star Wars fan - ironies, anyone?), Star Trek '09 showed me that a film can be both a good movie and a good Star Trek movie - a distinction I'd been incapable of making before. I was finally able to take a step back and see how Comic Book Guy I'd been for years, and I approached Star Trek Into Darkness with open-minded excitement.
Oh, and I wore a Spock uniform. Duh.
Yet one recurrent criticism of the Abrams films - one that sticks in my craw a bit as a lifelong Trek fan - is that they're pure popcorn action, lacking the moral weight of the two series in which franchise creator Gene Roddenberry had a direct hand. While reviews gathered on RottenTomatoes.com are overwhelmingly fresh, Into Darkness seems to have been judged on its strengths as an action film alone. Considering sociopolitical criticism throughout - in keeping with the best Trek - these are backhanded compliments at best.
After all, while TOS (The Original Series, if you don't know Trek lingo) dealt with '60s social issues, and while The Next Generation established the sensitive pacifism that so defines Trek lore today, these franchise entries were absolutely products of their time. Accordingly, much of the new film hinges on the uncomfortable militarization of Starfleet in reaction to terrorist threat. This is not the Trek of the '60s or the '90s precisely because this is not the America of the '60s or the '90s: Picard never had to get his shoes checked before stepping onto a transporter. Accordingly, Into Darkness metaphorically approaches secretive drone programs, rendition teams, suicide bombings and the uncomfortable alliances forged in the persistent gray areas of modern, undeclared war. And while there aren't always comfortable or easy answers, this Trek - in Roddenberry's fine tradition - holds up a mirror as visible and obvious as a certain grotesquely militarized ship featured prominently in the film.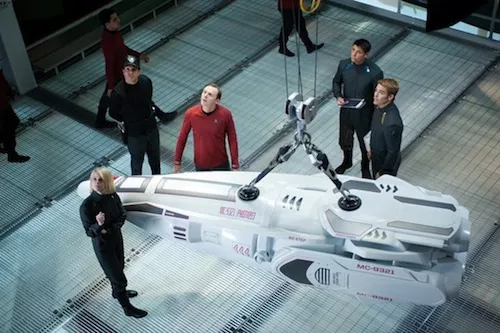 Yet this symbolism has its roots in the first Abrams film, in which familiar characters' lives are horribly altered by senseless violence: Kirk grows up fatherless, while Spock sees his mother - and then most members of his species - killed. The ensuing alternate reality is distinct from the familiar TOS precisely because of the shadow of terrorism: This framework highlights the generational difference of modern Americans coming of age in the post-9/11 world, and it raises questions of how characters we know to be ultimately ethical behave in a world of preemptive strikes and remote-control warfare. At the end of Star Trek '09, many fans were disappointed that Kirk killed the villainous Nero - the real Kirk, the criticism goes, would have tried to save him.
Yet the beauty of the Abrams films is that Chris Pine's Kirk is and isn't the noble captain we know and love - not yet and not consistently. He's going to do things Shatner's Kirk never did precisely because he didn't grow up in the same masterpiece society, something implicit to the first film and explicit to the second: He's a millennial, really, yet he has the same potential as the TOS Kirk. And this latent message is where the real strength of these films lies: This captain and this crew have the potential for restraint and nobility their counterparts reached in films like Star Trek VI: The Undiscovered Country or TOS episodes like "Day of the Dove," though they face an uphill battle in an atmosphere of vengeance, confusion and fear. And when they do reach those heights, it summons that same Trek euphoria I've sought all my life.