There's a gas station at the corner of South Tryon Street and Yorkmont Road, a nondescript, unremarkable row of pumps with a small convenience store. If you're one of the 1.7 million individuals in the state who rely on SNAP benefits - more colloquially known as food stamps - to buy food, you can purchase groceries there. Ready-to-eat prepared foods, meaning Circle K hot taquitos, for example, are off limits, but the Oreos are fair game. A mile up Yorkmont, at the Charlotte Regional Farmers Market, over a hundred small farms offer locally grown produce. It's all fresh, it's all relatively cheap, it's all inarguably healthy - and none of it can be purchased with food stamps.
The N.C. Department of Agriculture's marketing department is fond of reminding us that "goodness grows in North Carolina." But if you rely on the Supplemental Nutrition Assistance Program benefits, it probably doesn't grow for you.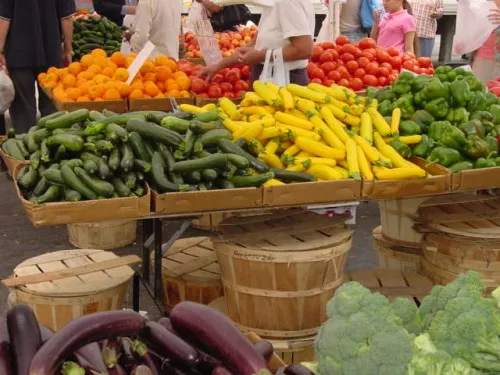 Charlotte Regional was one of the markets apparently overlooked by the $4 million in federal funds granted to states in 2012 to enable farmers markets to accept SNAP benefits. Opening doors to food stamp beneficiaries means jumping through a series of bureaucratic hoops: first, a market must set up an account with the U.S. Department of Agriculture, then fill out an online application, then, perplexingly, send another application by mail to the USDA Food and Nutrition Service in Washington, D.C. The market must then either purchase or lease wireless point-of-sale equipment that can accept EBT cards. And if funds for that equipment aren't available, the only other option is manual vouchers - which would require market staff to call the state's EBT processor for each and every purchase. Given the choice between being called into a market manager's office to wait for an administrative call to go through just to buy a pound of squash or swiping an EBT card at a convenience store, who wouldn't choose Circle K?
Of course, it's possible to step around the red tape with enough independent green. Atherton Mill and Market not only began accepting SNAP benefits this year but called on the community to make SNAP funds go further, launching an Indiegogo campaign to create a fund that would double SNAP benefits for individuals who shop at the farmers market. It's a commendable move, but there remains the uncomfortable truth that Atherton, in its sleek space in the heart of South End, has a distinctly upscale vibe. And while there's certainly nothing inherently wrong with artisan bread and pour-over coffee - unless, like me, you begin twitching like a heroin addict waiting the approximately five thousand years necessary to prepare the latter - is it realistic to expect someone on SNAP benefits to take the light rail into South End and drop $3 on a single heirloom tomato, even if half that amount is already covered by a well-intentioned community?
Maybe so, but maybe accepting SNAP benefits at a larger, more affordable market that's accessible from a major thoroughfare and proximal to some of Charlotte's 60 identified food deserts (areas with limited access to fresh food) would have more of an impact. Maybe it's finally time to stop seeing local food as a trendy hipster hobby, and start seeing it as an overlooked solution to a growing problem. Because SNAP benefits used at farmers markets don't go into the cash register at a nondescript gas station, they go into the pockets of farmers who might be having trouble keeping their own families afloat. The Journal of Agriculture, Food Systems, and Community Development estimates that many small-scale farmers earn the equivalent of $7 per hour, which means that even with the conservative assumption of a 40-hour workweek, they would qualify for food stamps themselves. Perhaps this is because the family farm itself is a dying breed - there were 6.8 million farms in the U.S. in 1935, but now about 2 million large, industrialized farms produce even more food.
Food that's probably more likely to make its way onto the convenience store shelves than into a farmers market booth.