UPDATE: The airport says it "contacted the Philadelphia office of the ad agency who manages CLT's advertising program about the UltraViolet campaign. It was relayed to the agency that CLT only accepts ads that are commercial or governmental in nature. The ad was neither."
As if there hasn't been enough drama surrounding Charlotte-Douglas International Airport, another dust-up emerged Thursday when word came that it refused to accept advertising from a national women's advocacy group that wanted to install billboards reminding viewers of policy decisions in North Carolina that hurt women and families.
UltraViolet, an online community of over 550,000 women and men who "take collective action to expose and fight sexism in the public sector, private sector and the media," included both Charlotte and Raleigh in a national campaign designed to welcome tourists and natives with a reminder that women are still, in 2014, paid less than men and that many still can't access adequate reproductive health care and paid family medical leave.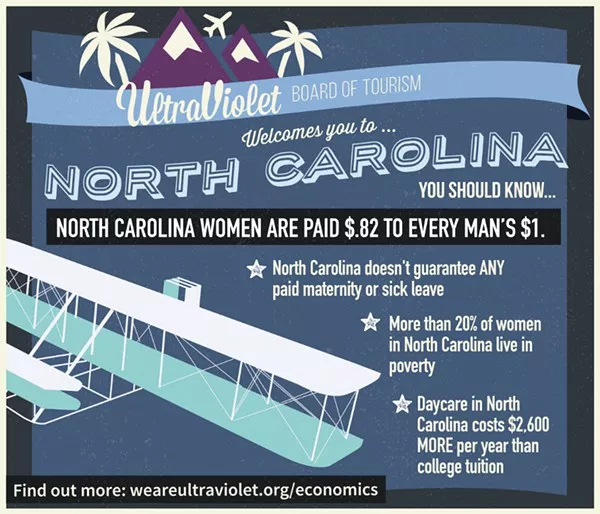 UltraViolet's spokespeople say they were told the airport "does not accept political/issue advertising."
Not taking no for an answer, UltraViolet plans to rent nearby space for their billboards, which show the Wright Brothers' bi-plane under an "UltraViolet Board of Tourism Welcomes You To North Carolina" banner, with headlines reporting that the state "doesn't guarantee ANY paid maternity or sick leave," has "more than 20% of (its) women living in poverty," and where "day care costs $2,600 more per year than college tuition."
"Across the country, women and their families are waking up and realizing that their legislators are the reason they have (a) raw deal, and more and more, they're angry," wrote UltraViolet co-founder Nita Chaudhary in a statement announcing the campaign. "Women are fed up with policies that leave them earning only .77 cents on the dollar, or leave them without any paid maternity or sick leave to take care of their families and children, all while their elected officials oppose bills in Congress to fix these major inequities."
UltraViolet says it chose North Carolina because Sen. Richard Burr opposed the Lilly Ledbetter Fair Pay Act of 2009, and the majority of the state's congressional delegation rejected the renewal of the Violence Against Women Act in 2013.
Ads are pending approval at airports in other cities around the country, including several in Ohio, Louisville, Houston, Dallas, New Orleans and Reno.