Luki and I were watching the Olympics the other day when the news about the Sikh temple shooting came on the TV. I immediately gasped, in part because of the horrific violence, but also because I couldn't believe I was watching footage about a mass shooting again. Luki, whom I keep forgetting is an actual, perceptive, inquisitive, human person and no longer a baby, asked me what had happened. "Um, nothing, um, just that some people got hurt," I answered and changed the channel. "Look! It's Dora."
I felt awkward, embarrassed, the way parents are generally portrayed when talking to teenagers about sex. Except, I think that talking to my kids about sex is going to be a lot easier than talking to them about violence. I've got my sex speech prepared: Sex is a wonderful thing you should share with someone you love and are committed to. It's a big decision that can have major consequences. Make sure you're safe. Violence, on the other hand, is much more complicated. And I think the fact that adults carry guns and use them to take others' lives is a much dirtier, shameful truth to have to explain to my sons than that we occasionally get naked and have intercourse.
I've tried hard to keep violence out of Luki's life. We don't own any weapons, real or make-believe. He doesn't watch any violent television. And whenever we get to the end of Little Red Riding Hood, the wolf gets put in "time out" by the hunters, not shot. Still, I can't control the games his friends play at preschool or the scenes he sees in movies, even when they're rated G. And I certainly can't control the news.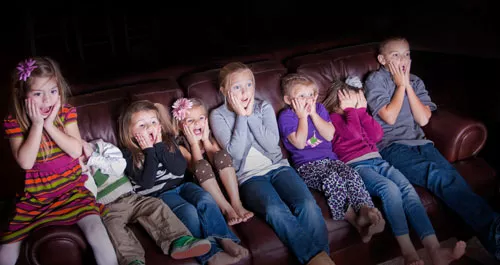 After the Aurora shooting, Rebecca Woolf, one of my favorite bloggers, wrote this about violence and her son:
I realized I can't shelter him from violence so I stopped trying. In the same way I stopped trying to shelter myself. Because I'd rather him watch Star Wars so we can talk about it. I'd rather he experiment with his own darkness because we all have darkness.
She's right. It's not just impossible for me to shelter Luki from violence, it's also irresponsible for me to try. Violence is everywhere and it's portrayed as commonplace, as beneficial, as necessary, I have to tell him that it's not. Not in the movies. Not in comic books. Not in real life. I have to talk to him about it. As much as I'd like to stick my fingers in my ears, shake my head, and sing "la, la, la, la" whenever he catches a glimpse of the news, I can't keep ignoring it.
But this has been a difficult realization to come to. It's not something that's come as naturally as, for example, knowing that I need to talk to my kids about sex. I don't have my "violence speech" prepared. And I think that's the problem. That's one of the reasons these mass shootings are taking place. Because until it's in the news, until there are 12 dead in Colorado and 7 in Wisconsin, we don't think or talk about it.
In her blog entry, Woolf goes on to say:
But can we at the very least acknowledge that calling horror movies entertainment and the news "horrific" is an irony we seem to collectively ignore? Is pretend violence not violence? Does it not have ramifications? Because whether it's the news at 11 or the midnight showing of The Dark Knight we are ALL watching. We are paying good money to watch violent acts take place, torturous, horrendous things that look pretty damn real. CRAZY real. And that affects us. It affects every single one of us. "Bad guys", "good guys" and everyone in between.

I realize it's not going to go away. The superheroes and the video games and the pretend play at the playground ... that's all too pervasive, too entrenched in our culture. But, like Rebecca says, we need to at least acknowledge that it's happening and talk about it. Talk about it at home, at school, at church. We need to stop acting like the violence we call "entertainment" is fake and unrelated to the violence we call a "tragedy."
And hopefully, the more we all talk about it on a daily basis, the less explaining I'll have to do about the news.