When it comes to parenting questions or decisions, I research everything ad nauseam. The search history on the Google app on my iPhone is full of things like, "mercury levels in fish and toddlers," "2-month-old sleeping schedule," and "how to brush my child's teeth without having to put him in a headlock."
I own books on breastfeeding, on gentle discipline, on the Montessori education method. I ask my mom her opinions on how to stop bedwetting and encourage vegetable eating. And I compare notes with other mothers more often than I'd like to admit. Basically, I'm constantly trying to assemble a mental child-rearing manual that's tailored specifically to my family. However, there's one decision I made recently without one bit of prior thought or research: I decided that my kids would share a bedroom.
I didn't have my own room until I was a teenager. This wasn't for any idealistic reasons on my parents' behalf - we simply never lived in a place large enough. But I'm convinced that talking with my brother as I drifted to sleep each night cemented the incredible relationship we have today. We slept on bunk beds with 101 Dalmatians sheets and when the lights went out, we shared secrets, uttered our wildest dreams, and conspired against our parents. We fought, of course - about space, and décor, and who got the top bunk - but we also learned to compromise (we switched beds every other week). Together we figured out our tastes, our sense of humor, our values. He was my first friend and the foundation for all the other friendships and partnerships I've had in life. And that's exactly what I hope for my boys.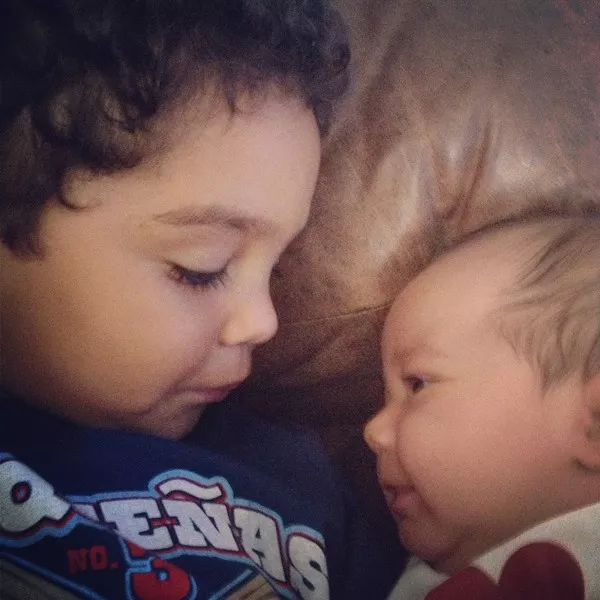 So, this past week, we moved Pau from our bedroom to the room he and Luki now share. Pau is nowhere close to sleeping through the night, and we are generally too lazy to take him back to his crib after the 2:00 a.m. feeding, but both boys do drift off to sleep together in their shared bedroom. And it's been working remarkably well. Instead of orchestrating his usual long and complicated pre-sleep theatrical production, which involves dying of thirst, needing to pee, and having to hug and kiss mom and dad a few dozen times, Luki now stays quietly in bed so as to not bother his baby brother. We explained to him that, with becoming an older sibling comes this fun and exciting thing called responsibility, and he bought it up enthusiastically.
The morning after their first sleepover, I asked Luki how he felt after spending the night next to his brother. "I liked it mama," he said, "I liked it because now I'm never ever alone."
And that right there was more affirmation that any Google search could have ever provided.