click to enlarge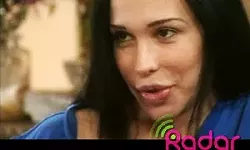 I love porn. If I could watch porn at work and not get fired I probably would. But this latest news from Vivid made me throw up in my mouth a little bit.
According to The Frisky, the porn giant wants to give the Octo-mom, Nadya Suleman a million dollars to make a movie. GROSS!
Porn giant Vivid Entertainment usually has no problem sealing many deals, but they're desperate to bed the OctoMom. First, they made her a million dollar offer, plus benefits for all her babies. That deal sounds better than the stimulus package, but while Nadya Suleman is clearly a whore, it's seemingly just for attention. So, she turned the seven figure XXX offer down.

Now, it's rare that porno peeps go through a courting ritual, let alone rejection, but Vivid has come back with a new agreement begging for it. In the wake of Suleman firing her non-profit nannies, Vivid has decided to promise her more help than even she needs. For a cool $1 million, they want her to star in a reality TV show about her and her gaggle of porn star babysitters. In addition, she'd have to agree to appear partially nude in a skin flick.
You have to be kind of sick to want to see this broad in a porno.