I just saw the most amazing thing. As per usual and because of my big, kind heart, when I see something that makes my day, I feel the need to spread the joy around.
I just saw a portrait of republican Presidential candidate Rick Santorum's face comprised of nothing but tiny pictures of gay porn.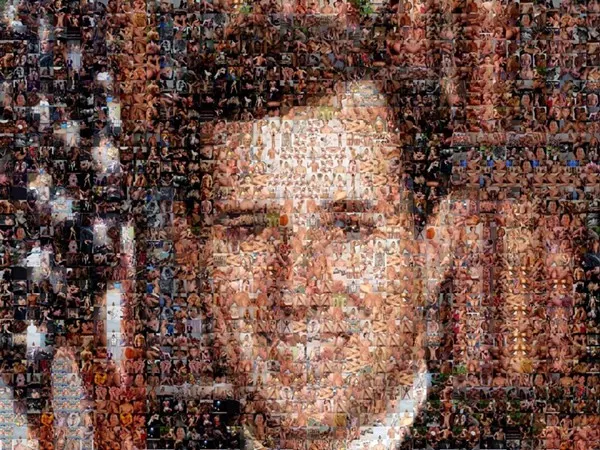 Although I'm quite sure that all of you are just as sick and tired of hearing about this guy as I am, just in case you don't own a television, Rick Santorum is (in his words) the "true conservative" candidate for POTUS. His major platforms consist of prohibiting abortion, preserving marriage by restricting it to one man and one woman, and instituting pornography laws so that "hard-core" porn is no longer accessible on the Internet, cable or satellite television, or in hotels. You know, the most important stuff.
If we're adhering to Rick's definition of conservative, it no longer just means Scrooge McDuck greedy and uptight — it now means hateful and dictatorial. If one of those fetuses he brawls tooth and nail to protect grows up to be homosexual, its rights can go straight to hell in a rainbow basket!
Therein lays the irony and hilarity that some brilliant (probably gay) man or lady took the time to carefully craft his goofy visage out of "hard-core" wiener on wiener action. You aim to deny American citizens the right to marry the person whom they love and are committed? You've single-handedly decided to limit the options that the women of America have in the event of an unwanted pregnancy? OK, fine, you get dicks all over your face. Fuck on you dude ... literally.
Megan Henshall is a project coordinator by day, favorite child, rollerskating enthusiast, blogger, and lover of all things social and under appreciated. For more writing/ramblings/rants visit www.dearsuchandso-keyboardventing.blogspot.com.