click to enlarge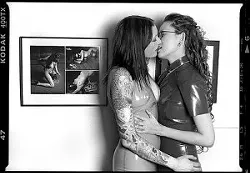 Yesterday the Oprah Winfrey show was about women who leave their husbands or boyfriends for other women.
O said this was the first time that the complexity of women's sexuality had been discussed on her show.
I think Oprah has been listening to Katy Perry. The show could've been called, "I Kissed a Girl." This is like the first time I've watched Oprah and didn't learn a damned thing.
Here are some of the highlights: (also known as shit we should already know)
Rebecca also has a new boyfriend. "I'm in a committed relationship, and I have been for a year," she says. "But I will say since this affair or however you want to term it, it's opened my eyes up and I'm a little bit different. Like I look at women differently, and I am more open to it."
and Dr. Lucy Diamond, a guest on the show says:
"A lot of people think fluidity means choice. That's not true," Dr. Diamond says. "As we've heard here, a lot of these women never expected to feel what they felt. It was not a conscious decision. It was something they experienced happening to them."

Although it's difficult to define sexuality, Dr. Diamond says it can be measured in a spectrum called the Kinsey Scale, which ranges from 0 to 6. If you score 0, you're only interested in members of the opposite sex. If you score 6, you're only interested in people of the same sex. "For women, those categories in between— 1, 2, 3, 4, 5—are actually more common," Dr. Diamond says.
I can't speak for all women, but the ones I know can admit that they've wanted to try it with a woman and with enough alcohol, they will. What was the purpose of this show? Could it be Oprah that's trying to tell us something?