click to enlarge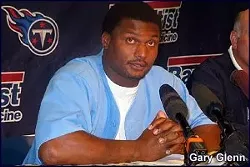 July 4th the news of former NFL QB Steve McNair dominated the headlines on CNN and ESPN for about 12 hours, then it was back to the wall-to-wall coverage of Michael Jackson.
First Nashville police reported that he was shot and a woman was found in the condo with him. At first glance, it seemed as if another rich man had been the target of random violence and then came the facts:
The death of former NFL quarterback Steve McNair was a homicide, though police said Sunday they have not classified the death of woman who was involved in a romantic relationship with him.
A romantic relationship outside of his marriage.
It's very sad that McNair and this woman had to die. But the tragic essence of this murder (police haven't ruled it a murder/suicide yet) is that McNair had a wife at home. It's one thing to find out that your husband was cheating, but to find out that the side piece possibly killed him makes you wonder what was that last conversation about.
Had McNair seen the error of his ways and went to break things off with his 20-year-old lover? McNair was 36, which is a bit to young for a mid-life crisis in a regular joe, but for a former NFL player, he was over the hill and retired.
Maybe being with the 20-year-old reminded him what it was like to be young again.
That could be why he upgraded her from a Kia to a Cadillac Escalade. All the while, his wife was at home — or so we think. It is possible that the McNairs had an nontraditional marriage. Maybe the other woman was pressuring McNair to leave his wife and be hers only. It's possible that he said "no" and then this tragedy occured.
Mark Sanford, the governor of South Carolina, should be breathing a sigh of relief. He's said in various news reports that his Argentine lover is his soul mate and it is widely believed that he went to Argentina a few weeks ago to end the affair. What if Maria had a gun? Would the story be different?
Love and lust makes people do crazy things. That's why if you have a husband or a wife at home, you should stay there. If you want something outside of your marriage, there are plenty of lawyers who can help negotiate your divorce. If your spouse is amicable to it and you only want to have sex with someone new, not start a new life with a new person, then check out a local swingers club.