click to enlarge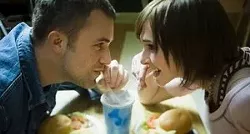 There's nothing worse than a 15-year-old girl who has decided that all men are scum because she lost her virginity to the wrong boy.
Here's a story I heard over the weekend that proves sex education is leaving a generation of kids dumb:
The girl told her friend that she'd been seeing an 18-year-old for five months and he talked her into having sex. She fell for it because so many of her friends were having sex and since this was her first "relationship," she thought he was really a good person.
But it turned out that he was doing what teen boys do: trying to add a notch to his belt. And that's what he did. Now she's left feeling lost and angry. She's unable to tell her parents what happened, and she wants to act out in a bad way against the boy who she had sex with.
School-sponsored sex education fails kids because while it tells them about the mechanics of sex, a lot is left out about the emotional scars that come from sex when you jump in too quickly. It seems that schools are so busy scaring the kids with the dark side of sex that they aren't preparing them to deal with the aftermath of sex or the right way to say "no."
Girls and boys don't know when they are ready for sex. They don't know when they are being taken advantage of because these things aren't discussed in these classes and too many parents are making kids afraid to talk to them honestly about sex until there is a problem like a pregnancy or an STD.
It's bad enough that most sex ed classes only teach abstinence — when time and time again that lesson plan has proven not to work.
It's time for schools to realize that there is more to sex than the act and it is high time for kids to learn it so that they will make better choices.Itions */ p.MsoNormal, li.MsoNormal, div.MsoNormal {mso-style-parent:""; margin:0in; margin-bottom:.0001pt; mso-pagination:widow-orphan; font-size:12.0pt; font-family:"Times New Roman"; mso-fareast-font-family:"Times New Roman";} @page Section1 {size:8.5in 11.0in; margin:1.0in 1.25in 1.0in 1.25in; mso-header-margin:.5in; mso-footer-margin:.5in; mso-paper-source:0;} div.Section1 {page:Section1;} -->
/* Style Definitions */
table.MsoNormalTable
{mso-style-name:"Table Normal";
mso-tstyle-rowband-size:0;
mso-tstyle-colband-size:0;
mso-style-noshow:yes;
mso-style-parent:"";
mso-padding-alt:0in 5.4pt 0in 5.4pt;
mso-para-margin:0in;
mso-para-margin-bottom:.0001pt;
mso-pagination:widow-orphan;
font-size:10.0pt;
font-family:"Times New Roman";
mso-ansi-language:#0400;
mso-fareast-language:#0400;
mso-bidi-language:#0400;}