click to enlarge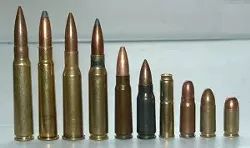 Often we talk about women who can't leave their abusers. We talk about how silly she is for returning to the man who beats the hell out of her on a regular basis. But what about the man who can't stop loving the crazy bi -- woman who shot him in the chest.
When I saw this story on the Charlotte Observer's web site, I shook my head and then started reading.
Thought number one was, if this was a woman who stayed with the man who shot her in the chest, the outcry for his head would be so loud we couldn't hear ourselves think.
Lamount Friend says he can't stop loving Kristel Rider even after the .38-caliber slug from her revolver nearly blew a hole through his heart.

Now the relationship that almost cost Friend his life could also send him back to prison, the very place the couple's affair began.

"It's love, stupid love," Friend said during an interview last week, his finger brushing the scar the bullet left as it exited his sternum. "I forgave her. ... I've never felt this way about a female before, not even my babies' mother."
Thought number two, she must suck an amazing dick. What else would keep this fool locked up in love with a woman who nearly killed him?
Friend spent 13 days in a hospital recovering from the gun shot. Friend said he told Johnson County Sheriff's deputies he didn't want to press charges against Rider.

But on May 1, Rider filed a domestic violence protective order against Friend.

Friend admits he later violated the order to stay away from Rider when she came to his grandmother's house. Friend says he rode with Rider back to her house in Smithfield.

The couple soon reconciled and took a vacation to Virginia Beach, he said. A reporter saw the two together at Rider's house on May 14.
Thought number three, this idiot is ready to risk going to jail for the woman who shot him? There isn't that much love in the world.
Johnston County Sherriff's deputies arrested Friend on charges of violating the restraining order and assault on a female, both misdemeanors. According to the arrest warrant, Rider told a county magistrate that Friend came to her house on June 17 and assaulted her by shoving her and putting his hands around her throat.

Friend, who says that never happened, is scheduled to appear in court today and could face a maximum sentence of 300 days because of an extensive criminal history that includes more than 30 past convictions for transgressions such as robbery, illegal firearms possession and cocaine trafficking.

The forbidden romance began behind bars, while Friend was serving a five-month stretch for assault on a female and carrying a concealed weapon.

Rider counseled the inmate on how to control his anger and taught him techniques for de-escalating a confrontation before it led to physical violence. Soon, he says, their relationship grew into more than that of patient and therapist.

He sent her love letters through the prison's internal mail. Friend said that Rider would come to his cell door and whisper that she liked what he wrote.
Final thought, when will these fools end up on the Jerry Springer Show?