click to enlarge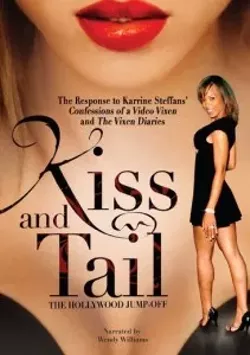 Former video vixen, Karrine Steffans made a name for herself with two tell all hip-hop books. She named names, told how things went down and now some of the men named in the books have gotten a chance to tell their side of the story on the DVD Kiss and Tail: The Hollywood Jump-Off.
The DVD was released in July and it's explosive and exposes Steffans as a user, a crazy bitch and a porn star. The DVD is like an A&E City Confidential episode, but with cursing and horrible reenactments--though the model who plays Steffans, often referred to as Superhead in this video, looks a lot like her.
While I wouldn't reccomend adding this DVD to your personal collection, it is good for a few laughs. Like when porn star Mr. Marcus says that Steffans did the right thing by not doing more than one porn movie.
Apparently, Steffans burned a lot of bridges and these men have been holding on to their anger for a while. Ja Rule makes an appearance in the video. What's really confusing is the man Steffans is supposed to be married to is in the video calling her crazy. Yet they got married? Wow.
Steffans is in the video as well, talking about her life and why she did what she did. It's funny that she did the interviews for the movie, because as she has been promoting her latest book, Steffans has been trying to distance herself from the dick sucking that made her famous. That's kind of weird, she wrote the books talking about her sexual exploits but doesn't want to talk about them? OK.
The DVD also features a rock and roll groupie who says that back in the day, it wasn't about sleeping with the rock stars, it was just about being around them. And if there was sex and all of that, no one told it.
Maybe today's hip-hop groupies should learn to shut up.
Want to see it?
Title: Kiss and Tail: The Hollywood Jump-off
Starring: Akon, Antwan Patton
Director: Thomas Gibson
Genre: Documentary
Format: Widescreen
Language: English