click to enlarge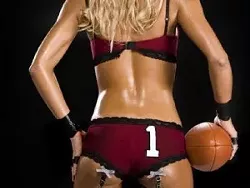 Have you ever heard of the term "sports widow?"
Maybe you're one of them. On Saturdays, Sundays and Mondays your man or woman is more worried about first downs and touchdowns than getting down.
Some people say, join in the fun and watch the game with him or her. But if you're not a fan of football or your mate is a Carolina Panthers' fan you probably end your weekend very disappointed and possibly horny.
You have to bring the sexy back, emphasis on the SEX. If your mate doesn't watch football with a lot of friends, then you should cuddle up next to your fan in one of his jerseys, a garter belt and black stockings. Points for back seams and heels.
While the game is going on, don't mess with him if he's a serious fan. But during the commercials slip your hand around his cock and stroke him until he's ready for more.
If his team is losing, you might get some during and after the commercial.
But halftime is your time to shine. It will be a quickie — halftime is about 15 minutes.
You don't have to be a sports widow. You can be a sports seductress.
Do not do any of the above during the playoffs, the Super Bowl or any college bowl games.