click to enlarge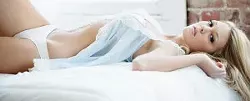 Boudoir is French for bedroom, so boudoir photography is those sexy pictures of women in a bedroom setting. You've probably seen stars take these photos, now you can too.
Charlotte Boudoir is here to take your sexy photo. Photographer Jeremy Igo spoke to Creative Loafing about why women and couples want to take these pictures. (Hey, it's classier than making a sex tape Kim Kardashian.)
Creative Loafing: What is Boudoir Photography?
Jeremy Igo: The idea is some sort of photography that is typically risqué and revealing. It's more of a sensual nature.
Do you have to be a certain type to take these pictures?
No, we get customers of all shapes and all sizes. It helps if they feel good about themselves and are comfortable in their own skin. About half of the women who do this, do it for themselves. They don't do it for a boyfriend or husband.
How long have you been taking Boudoir pictures and what do people say once they take the picture?
About five or six years. The vast majority say it's an ego boost because they see how good they can look in pictures. So, it's uplifting and empowering for them. And that's for them. If they are doing it for the husbands or the boyfriends there is always happiness on their end as well. I've gotten cigars and drinks sent to me from husbands and boyfriends.
Have you had men come in and take Boudoir photos?
I have, but it's not as common. Also, couples will come in or the husband will like to attend the photo shoot and that's absolutely fine.
How popular is the type of photography?
It's been happening all over the country for years. In Charlotte, it's becoming more and more popular now. It's getting more and more accepted. Charlotte is a little more of a conservative town so it takes a little more time when it comes to things like this. But each year you can see an increase in business.
You have to be 18 to get your Boudoir photos taken. Want to get more information, log on to www.charlotteboudoir.com.