click to enlarge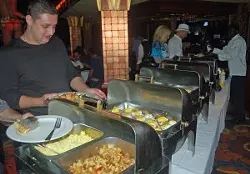 As strip clubs go, we're a lucky city. Charlotte is home to "titty" bars and also upscale venues where you can actually take your mother (well, maybe not your mother).
Among those "upscale" adult entertainment venues is The Men's Club, and this Friday, the club is having a party that won't stop until the sun comes up.
The XXXcess Party is being billed as a night of hotness with DJ Supa Skip spinning the tunes and of course the dancers in one of Charlotte's poshest strip clubs. What's exciting about the Men's Club is that it's welcoming to men and women. It's almost like a sports bar/restaurant with naked women. I'm feeling that.
Friday night, $100 buys you bottle service and a sky box. If you haven't been to the Men's Club and seen the upper boxes, you're missing out. But the best attraction the club has on a Friday or Saturday night has to be the breakfast buffet. This isn't the Waffle House fare, but food cooked by a chef, hot and ready for you to eat while you watch the girls do their thing.
When I went to the breakfast buffet a few months ago, I wasn't surprised to see a crowd of men and women loading up on bacon, grits, scrambled eggs, and omelets made to order.
If you're trying to ease your mate into the idea of hanging out at a strip club or if you're just tired of the club scene — where you can get arrested for showing your breasts — then you should head to the XXXcess Party Friday night. The fun starts at midnight.