click to enlarge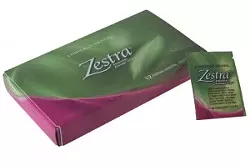 Dear TV networks:
Women watch TV. Women want to have sex. Women have been hearing about four-hour erections for years — so why is it so hard for us to find out about Zestra?
Look, you're alive because a woman (your mother) had sex with a man (your dad), so why is it hard to believe that women want to get pleasure from sex and want to work through issues keeping them from having an orgasm?
That's why the Nightline story was so shocking last night. Zestra — the first product established in clinical trials to increase a woman's feelings of desire and arousal — appears to be a scientific breakthrough in women's sexual satisfaction. It won't make women go blind or lose their hearing, like Viagra. And if a guest on the Rachel Ray show says it "sends you to the moon" who are you, network executive to tell me you won't show the ads for it? Or even you, Facebook? Can you actually believe Facebook didn't like something?
So why is it when it comes to what women want, advertisers clam up? According to the American Medical Association, 43 percent of women suffer from sexual dysfunction verses the 31 percent of men that do. Given this, it would seem that there would been an even larger market for products helping women.
Do you see that, network executive? Women need Zestra — or something like it — more than Bob Dole needs a four-hour erection. And you run those horrible KY Jelly ads. Yep, we see those. So what is the deal with Zestra?
Are you in on the conspiracy to keep women from enjoying sex as much as men?
Just look a doctor on Rachel Ray has to say, and tell me why can't we see the ads for Zestra?
Signed,
Mustang Sally
PS: What's too sexy about this commercial?