click to enlarge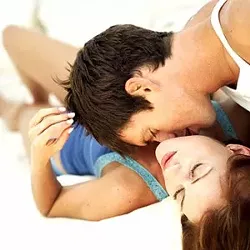 Some people will be ringing in 2011 with someone they will never see again. That's according to an article from Lemondrop, you're more likely to have a one-night stand on New Year's Eve than any other time of the year.
A survey from intimacy products manufacturer Wet has found that 33 percent of women admitted that they were more likely to have a one-night stand on New Year's Eve than on any other night of the year.

With another 29 percent of respondents saying they'd hooked up with a co-worker at a holiday bash, now's the time to spark up a conversation with your office crush. And you might want to show up prepared for some action: 57 percent of women said they'd snuck off for a quickie during a holiday gathering.
If you're going to do the NYE one-night stand, you should plan properly for it. That means, get a box of condoms. If this is a one-night stand and you won't see this person again, there's no need to hide your freak flag.
Make sure you two have enough money between you to pay for a hotel room. This is good in case either of you have stalker tendencies. Keep in mind that hotel rates in Uptown Charlotte will be expensive for two reasons: the bowl game that's in town and the holiday. You might have better luck near the airport getting a room. But after you drive all the way out there, you might change your mind.
Don't let the norepinephrine, serotonin, oxytocin, vasopressin, nitric oxide, and the hormone prolactin fool you into thinking there's more there than it really is. You're just satisfied.
Even if you and your one-night stand decide to see each other again, a new study dooms your relationship.
Couples who had sex the earliest - such as after the first date or within the first month of dating - had the worst relationship outcomes.

"What seems to happen is that if couples become sexual too early, this very rewarding area of the relationship overwhelms good decision-making and keeps couples in a relationship that might not be the best for them in the long-run," study researcher Dean Busby, of Brigham Young University's School of Family Life, told LiveScience.