click to enlarge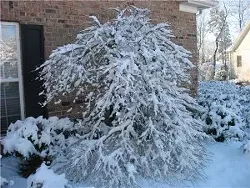 If you live in Charlotte, count yourself lucky for a mild winter. I'm sure you're yelling at the screen reminding me how cold it's been, and that we even had some snow. But you're forgetting that we don't live in the Northeast. Sadly, winter in all it's grayness and icy coldness isn't going away anytime soon, despite what that groundhog may say. Thursday, the forecast calls for snow in the late evening.
That snow, although we aren't expecting more than a light dusting in the Q.C., is the reason why your wintertime love life is a big blah!
Just 8 percent of Americans reported that winter weather left them feeling sexy.
But some people who took part in the Associated Press poll feel another way about winter loving.
Given the choice between grabbing an extra blanket or cozying up with someone special when it's cold, most people choose snuggling over a Snuggie.

And some folks take things a whole lot further: 15 percent of Americans who were cooped up by the weather reported having more sex than usual. (Two-thirds reported no romantic uptick while trapped inside, and 15 percent reported having less sex than usual.)