Apparently writing this blog makes me some sort of relationship expert, because it inspired an invitation from ESPNU to host a a Valentine's Day segment to school boys in how to survive Valentine's Day.
You can watch the segment here, but in synopsis, here are some words of wisdom to get gentlemen through D-Day. I mean, V-day ...
click to enlarge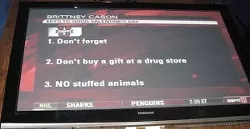 1. Well for starters, don't forget! Though, jewelry commercials certainly make it hard to forget about Valentine's Day. But help the economy (and yourself by making your woman happy) and partake in the Hallmark holiday.
2. Don't get a gift from a drug store or a gas station. Make us feel classy and get our box of chocolates from the grocery store at least.
3. No stuffed animals! ... unless you're shopping for a 10-year-old girl, which in that case would make you gross. Women make their beds with throw pillows as adults, not teddy bears.
4. Be creative when setting up the date. Besides, the more creative you get the cheaper the date gets. And be tactful — don't take her to an expensive steak house if she doesn't eat meat.
Valentine's is typically a holiday geared toward couples and florists, but in all honestly, single men seem to actually reap most of the benefits from it. They can go out on Valentine's Day with the unavailable women already weeded out for them, leaving an assortment of single women looking for a little love, or loving — whatever. And they don't even have to buy a present.Thus the single guys seem to be the ones who score the most on Valentine's Day. Pun intended.