click to enlarge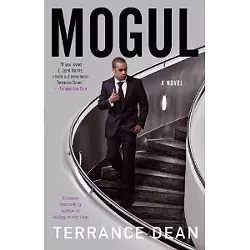 On shelves today is a book that will have readers checking back copies of VIBE and Rolling Stone magazines to see if this book is about that guy (you know who). It's called Mogul, by writer Terrence Dean, author of Hiding In Hip Hop.
Dean is quick to point out that his debut novel is a fictional tale. Here's what the story is about:
After the sudden death of his father, a renowned jazz musician, Aaron "Big A.T." Tremble clings to music as an escape. Making hip hop beats becomes his life. His love for music lands him at the estate of Larry "Pop" Singleton, a retired and respected Hip Hop music mogul who sees something special in Big A.T., and he also knows the truth about his sexuality. With Pop's blessings and nurturing, Big A.T. is on the path to becoming the next great Hip Hop producer in New York.

With the help of Pop and "the family," a network of secretly gay men in the Hip Hop world, Big A.T. finds success and starts his own music label. He's signed and worked with some of the biggest Hip Hop artists in the country. One of them is Brooklyn native lyricist, "Tickman." Together they are making sweet music together. Tickman and Big A.T.'s relationship goes beyond producer and rapper – they become secret lovers.

Nothing can stop Big A.T. All of the radio stations play his music. He has money, fame, and Jasmine, his girlfriend who doesn't know about his secret love for men. However, at the pinnacle of his career, compromising photos of Big A.T. land on the desk of a national news program—and in the hands of his girlfriend. Big A.T., for the first time is at a crossroad in his career: come out publicly with his secret or watch his music empire crumble.
Dean spoke with Creative Loafing before the release of the book.
Creative Loafing: What prompted this story line?
Well, I wrote Mogul because I wanted to tell the story. I worked in this industry for 20 years, and I have this arsenal of interesting stories. I sort of feel like the Jackie Collins and the Dominick Dunne who wrote their books based on their friendships in Hollywood. But I felt like there was not a black voice in literature that spoke of those same experiences. And I wanted to talk about, look at what it would be like if people found out that their favorite entertainment mogul was on the down low. How the public would respond and telling the story about what it really takes to get into the industry.
The story is sensual and steamy. How did you balance the love scenes so well?
Writers like E. Lynn Harris and Eric Jerome Dickey, who I love and idolize, Tananarive Due and Sonia Sanchez, who has been like a mentor to me, always said study your craft. These characters lived and breathed in me daily. I really wanted to get the reader to read and visualize the characters and the life, how they responded. People say I write very erotic love scenes, but I don't see it that way. Sex happens in hip-hop and in this industry.
Do you think if a "mogul" came out that things would go like you've mapped out in the book?
It does happen. It's not based off something I imagined; it's based off actual people. People that I know of and what I saw and how things work. I call it a modern day roman a clef. People can say, "wow, this is very true to life." I hope that someone from the hip-hop community would come forward and eventually come out. There does need to be a don't ask, don't tell repeal in hip-hop. I think so many people will then come out ... I hope that people get that, they wanted to protect Big A.T., but the family really wanted to protect themselves.