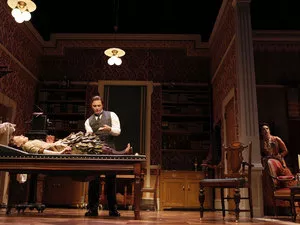 It's called
The Vibrator Play
, even though the official title is
In The Next Room or The Vibrator Play
.
Actor's Theatre Of Charlotte
is presenting the Sarah Ruhl play, starting this week through Oct. 1.
In The Next Room, nominated for a Tony Award in 2010, is about the accidental invention of the best sex toy ever. Set in the Victorian era, this play focuses on the discovery of the female orgasm — which, at that time, was thought to be the treatment for hysteria.
"We've done a coupled of Sarah Ruhl shows, and she has a voice that speaks to our aesthetic. We enjoy what she says and how she says it," says Chip Decker, ATC's artistic director. "Whenever she has a new piece out there, we're always on the pulse. She has a way with words, and we love that about her."
Ann Marie Costa, the show's director, says the play looks at a doctor's relationship with his wife and the satisfaction he gives to other women in the next room with his treatments. "This is based on historical fact," she says. "In the 1880s, when electricity came out, a doctor started to use vibrators to relieve the congestion in the womb for hysteria. The doctors were doing it for pure medical reasons. They believed the way to relieve these women of being anxious and having anxiety was to release the fluid in that area."
Of course, now we call it, getting off, busting a nut, climaxing, coming and so on.
The play, which Costa says is also a love story, takes a comedic look at all of these other women getting off while the doctor's wife languishes. "He doesn't think anything is wrong with her," Costa says. "As a Victorian woman, she feels very separated from her husband and she listens in to what's going on in that operating theater and she wants him to try it on her."
So, while the doctor is helping other women get over their hysteria in one room, his wife and others are in the other room, listening trying to figure out what's going on.
"It's always funny when people have orgasms on stage," Decker says, with a hardy laugh.
In The Next Room or the Vibrator Play opens Wednesday night at 7:30 p.m.