A traffic stop on the West Coast brought down a rare type of criminal, a woman accused of making and possessing child pornography.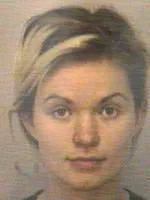 Here's the story: Kings Mountain woman, Crystal Dawn Johnson Smith, 21, allegedly took pictures of some preteen girls in sex acts back in 2008. Then she took off and ran from the charges for over two years.


Kings Mountain Police Capt. Derek Johnson said Smith sent the photographs to her boyfriend, a military servicemember who was stationed in California.

The photos weren't posted online, but were "disseminated electronically," Johnson said.

Police say the Naval Criminal Investigative Service interviewed Smith's boyfriend and his case was handled in the military justice system.

Smith induced the girl to engage in "various and multiple sexual acts for the purpose of producing material containing a visual representation depicting this activity," the arrest warrant states.

Johnson wouldn't say whether Smith is accused of participating in the sex acts, but he did say investigators have no other sus-pects in the case.

The alleged incident took place on Oct. 9, 2008, and a warrant for Smith's arrest was issued in April 2009. The Washington State Highway Patrol stopped Smith's car on Sept. 20 and learned of the warrant through the National Crime Information Center database, Johnson said.
Cases about women involved in making child porn are rare. But it does happen. In Maryland, a 19-year-old woman, Patricia Ann Tasker, pleaded guilty to making a sexually explicit video of an 8-year-old she was taking care of.
During Operation Wire Breaker, in 2010, which was a nationwide child porn sweep, an Iowa City woman received two years in prison for possession of the illegal images.
Jennifer Marie Abbott of Iowa City pleaded guilty in U.S. District Court on March 25 to possession of child pornography. Today Judge James E. Gritzner sentenced Abbott to 2 years imprisonment, 5 years supervised release and required Abbott to pay $100 to the victim's assistance fund.

A minute entry for the March change of plea hearing noted that the Court "finds extraordinary circumstances present."
It's estimated that more than 5 million pornographic pictures and videos of children are circulated on the Internet every day, according to a report on Oprah.com.