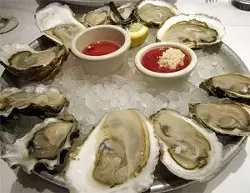 Let's say you and this special person have been dating for awhile -- three dates to be exact -- and you're ready to take your date to bed.
You've suffered through movies you hate because you want to show your date that you can compromise.
You've taken hikes, gone to the Lake at University and gotten bug bites in places where you know you're not going to be able to scratch.
Now, you want to get all Isley Brother with this person and end up in between the sheets. You got the special red sheets on your bed, you've spent three hours cleaning your bedroom, bathroom and living room. Your place smells like sweet jasmine and patchouli, but you don't want to come off as a horny jerk.
You suggest dinner at Vinnie's Grill and Raw Bar.
What?
Yes, focus on the Raw part.
Oysters, feed them to your date and you're going to look cultured and fun, because Vinnie's -- especially the one on South Boulevard -- is a fun place and raw oysters are an aphrodisiac.
If you're not sure that you like raw oysters, ask for lemon juice.
You should tell your date at the end of dinner that you're ready to take it to that next level and if oysters are all of that, that person will be willing to go there with you.