On Sunday, deep in the woods of Davidson, over 60 Charlotte-area disc golf players rallied around Candie Honeycutt and her remaining son, Tyler, and cheered her as she tearfully thanked them.
The group had raised more than $1,500 over the weekend to help Honeycutt pay for a memorial for her oldest son, Gregory "Matt" Carpenter, who was killed in a car accident the previous week. The weekend ended with a fundraiser tournament, raffle and cookout at Matt's favorite disc golf course, a private course called Brackett's Bluff in Davidson.
"This means the world to me," Honeycutt said as she walked around the course during Sunday's tournament. "So many people pass away and you don't hear anything about them, that's it. These people have come together and supported me completely."
For Jason Memon, Carpenter's friend of 12 years and one of the event's organizers, the outpouring of support was indicative of how tight-knit the Charlotte-area disc golf community is.
"It feels good because it shows that the community has love for each other like I had love for him," he said. "Family. That's what Charlotte disc golf is, it's family."
It's a family that's growing fast.
For those unnfamiliar with it, disc golf is a sport played (usually) on 18-hole courses with rules similar to those of traditional ball golf. A player starts at a tee box and tries to reach the target (a basket with chains hanging from the top as opposed to a hole) in the least amount of turns (throwing a disc as opposed to striking a ball) as possible.
The sport is exploding nationally, and new players are joining all the time. A poll of more than 1,400 disc golfers in January 2014 found that half of them had been playing for less than two years.
In recent years, through hosting major events, word of mouth on Internet forums and even showing up on the SportsCenter Top 10 Plays of the Week, people are coming around on an idea that many folks in the local culture have believed for years: Charlotte is the best disc golf city in the country.
In a relatively short time, the city has seen an explosion in both courses and players. The Charlotte Disc Golf Club (CDGC) had about 120 members in 2013. The number has increased every year since, with 440 registering last year. This year, the club is on pace to meet its goal of 600 players. Thousands more play on a regular, if more casual, basis.
The number of courses in Charlotte alone has more than tripled since 2009, with a number of other courses popping up in the surrounding areas. Seven years ago, the CDGC maintained five courses. A miraculous effort by club members and local course designers in the lead-up to the Professional Disc Golf Association (PDGA) World Championships, held in Charlotte in 2012, led to the construction of seven more courses before that time. The number of CDGC-maintained public courses now stands at 16, with two of those located in northern Mecklenburg towns.
"We've been calling it 'The Mecca' for years and years," says Henry Childres, president of CDGC. "It was considered that even before Worlds, with the quality of the courses that we had. It definitely is a lot of quantity, but [the courses are] also to a very high standard and getting better all the time."
While working on this article, I often heard players reference the fact that people regularly move to Charlotte based solely on the amount of high-quality disc golf courses in the city. Childres is one of those guys. When he graduated high school in 2004, he had been playing the game for two years. He was apparently already hooked, because he put more thought into the quality of disc golf in Charlotte than academic merits when he chose to go to school at UNC Charlotte.
"I decided based on not really the school that I wanted to go to, but I knew that there were five courses in Charlotte and we only had one in Hickory, so it was like, 'Alright, I'm going to go there so I can play a lot of disc golf,'" Childres says.
It may seem like an immature way to go about choosing a college, but the move paid off for him. Since arriving in Charlotte, Childres has become a professional disc golf player, served as president of the CDGC and landed a full-time job at Innova, the world's largest disc golf company, which has its eastern headquarters in Rock Hill, South Carolina.
Childres is one of many who have been active in cultivating Charlotte's disc golf culture into one recognized by pros around the world as a desirable place to visit to play disc golf.
"Everything I do is disc golf," Childres says. "I'm married and we have two little puppies but other than that, pretty much everything. I work [at Innova] full time, I teach lessons, I play professionally and I run tournaments."
Others who stay busy on the scene include those like Matt Cheney, who has founded multiple disc golf leagues in the area, including a putting league that has served as a model for copycat leagues around the country and in places like Canada and Norway.
Cheney was just a casual player when he decided to try to start a putting league three years ago. He's grown it from four guys testing out the concept in the original Industry co-working location to now averaging 72 people weekly at Sugar Creek Brewery. He also runs a match play team league that's the only one of its kind in Charlotte.
"I see all these top lists that come out about what makes Charlotte unique, and disc golf is never on them, yet we're one of the meccas of disc golf," Cheney says. "People have moved here for disc golf. Most people are just unaware. It's all free. There's nothing better than getting out, going walking out in the woods to de-stress, getting back in nature, getting off our phones and just being with people in nature. It's awesome and it's huge; it's already huge here comparatively."
Until last week's Glass Blown Open in Emporia, Kansas, the 2012 PDGA World Championships was the biggest tournament in the history of disc golf, with about 1,100 participants between the two. Both professional and amateur players were able to compete in Charlotte thanks to the amount of quality courses.
Childres said hosting such a major tournament played a key role in cultivating the growth Charlotte has been seeing in the disc golf scene.
"The explosion of disc golf, the growth of it in the past 10 to 20 years, it makes it so the World Championships, when it comes town, it's such a huge deal," Childres says. "You're going to have all the best players for sure and you're going to have a ton of people quantity-wise. It really changed the culture completely, because you went from having a lot of courses being like five — which was already way more than most cities have — to more than double that and now triple that. It basically created the opportunity for everybody who may have played sometimes because it wasn't that convenient, to now they could play every day. They can play at lunch for work because there's a course nearby."
Though he's too humble to tell you so himself, just about everybody familiar with the Charlotte disc golf scene credits one man with playing the largest role in the proliferation of disc golf courses in and around the city: Stan McDaniel.
McDaniel designed and led the construction efforts at many of Charlotte's highest quality courses, like the Renaissance Gold course at Renaissance Park in south Charlotte, called "a monster of a course" by the popular DGCourseReview.com.
"Most of Charlotte disc golf, in my opinion, wouldn't have happened without Stan," says Kevin Keith, co-host of Final Round Radio, a Charlotte-based disc golf podcast with listeners around the world. "When he gets something in his head, with him and a chainsaw, magic happens."
Keith said his most memorable moment from the first 41 episodes of Final Round was having McDaniel as a guest and watching him get emotional as he realized the amount of respect the entire community feels toward him.
According to Childres, the local disc golf community owes a great debt to McDaniel for all the work he's put into the scene. As with all of the people involved with improving the local scene, McDaniel does all of his work on a fully volunteer basis.
"He's done so much here it's unbelievable," Childres says. "We owe him a lot in terms of the quality and the quantity of the courses here. He has literally poured his blood, sweat and tears into these courses and it really shows. You look at Renaissance Gold, not only would it not exist without him, there's no way that anybody else has ever done anything like what he did there."
With the labor-intensive work behind them, the CDGC is now focused on growing the culture as opposed to continuing to build courses, as the city and surrounding areas is already dense with high-quality play. A younger board, full of of relative newcomers like Cheney, is shifting gears.
"I'm really excited to where we've got a new board installed," Cheney says. "A lot of the guys who built the scene didn't expect it to grow to the point where it did, so now we've got an energized group. Over the last two years we've had a big shift with the seniority stepping aside and letting the younger guys come in."
Cheney says the board is focusing on taking advantage of technology to capitalize on the game's "viral" nature, as was evident last year when Philo Brathwaite landed on SportsCenter's Top 10 Plays of the Week when he aced the eighth hole at Robert L. Smith District Park in west Charlotte.
"When I think of Charlotte disc golf I think of growth," Cheney, a CDGC board member, says. "We have one of the biggest cultures, and one of the biggest clubs in the country, possibly in the world. We're growing at a pretty large rate. Now that we have all the courses in from Worlds and did all the prep work for that, we can help grow and expand the culture and the reach."
Childres and Cheney confirmed there has been discussion within the CDGC about bidding to host another World Championship, but not for another two to three years.
As with many alternative sports, those on the outside looking in have often shrugged off disc golfers as a bunch of stoners playing around in the woods. In recent years, however, as the game has grown and pro players have improved, those in the know have witnessed the sport begin a transition.
"[The stoner stereotype] does have an effect for sure, but if you take the time to get to know disc golf at the professional level, you're going to realize that it's so much more," says Andy Goh, co-host of Final Round Radio. "It's nothing like the stereotype. These are guys who are really committed to what they're doing and really professional about it. But to the average person on the street, they still don't know anything about disc golf. When I tell people I host a disc golf podcast, people who barely have any idea what disc golf is, I can see it in their eyes. 'Isn't that where you get a tie-dye shirt and throw a Frisbee around in a field?'"
Charlotte-based professional player Michael "MJ" Johansen, who finished fourth in the 2012 Worlds, doesn't put much value into the stereotype.
"There's nothing you can do about that except play," Johansen says. "It's just one of those things, people are going to see what they want to see, like with anything. It just depends on how involved people are in the area to actually see it. If they don't see it then they don't understand what it really is. Ultimate [Frisbee] has the same stigma. It takes a long time to get rid of that. It was the same thing with other alternative sports like skateboarding and snowboarding and all of those. 'Oh, it's just a bunch of stoners.' Whatever, that's just what they're going to think.'"
Kevin Burgess, a Final Round Radio co-host who also owns Another Round Disc Golf store in NoDa, has begun to change the way he looks at the whole stereotype. Although he points out that he doesn't sell bongs or light incense in his shop to take advantage of the stereotype like the head shops that sell discs, he has begun to look at it more as a positive.
"This is just me, but the stereotype kind of tags along with you and with the sport," Burgess says. "I used to try to get away from it, but the older I've gotten, the more I'm thinking to sort of embrace it. The sport came out of that hippie counterculture. It doesn't mean that it's not kid-friendly, it doesn't mean that it's not good people."
Regardless of how one feels about the stereotype, the sport's hippie counterculture beginnings undeniably attracted a certain demographic. A vast majority of those playing at any given course around Charlotte at any given time are white males.
There has been an increase in female players nationally, however, and in 2012 the PDGA founded the Women's Global Event, which is held on May 14. The 2014 event consisted of 61 registered tournaments spanning 28 states and six countries. More than 1,000 women competed in the events. This year, local women will take part by participating in A Romp in the Ruins, a Women's Global Event tournament being held at Plantation Ruins Disc Golf Course at Winget Park in southwest Charlotte.
Keith, who is black, jokes about the lack of people on the disc golf course that look like him.
"In terms of demographics, there are the youngest of young to the oldest of old. There are all socio-economic backgrounds, all professions. People are so diverse," he says. "But the stereotype is still moderately accurate. I'm one of, what, 20 black people in Charlotte that play disc golf? Actually I think it's 17. There's this group of six brothers who play, so that family alone almost doubles the number."
So how can that gap be bridged? Keith said it's all about bringing a buddy and telling a friend. He, for one, began playing only after a long history of reluctance.
"I didn't know disc golf existed. Not even an inkling of a clue," he says. "My roommate and best friend at the time was going off to the woods with some other grown-ass men and that was a concern. For months I was like, 'What are you guys doing out there?' They invited me several times and I ignored them because I thought it was rather odd, to put it mildly, but one time I went out. I played one round. I played horribly but I was hooked."
Inspiration for anyone looking for a new way to appreciate what Charlotte has to offer: all it takes is getting out there for one (probably really bad) round.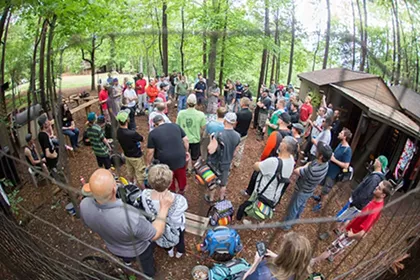 12 slides