Police presence was light and arrests a non-issue at Charlotte's first Moral Monday, held Aug. 19 at Marshall Park. The nearly 2,000 attendees protested bills passed during this year's state legislative session that limited access to voting, abortions and healthcare and cut funding for public education. Speakers addressed the crowd and musical acts took to the stage, including Bush administration rabble-rouser Harry Taylor on the banjo.
The N.C. NAACP hosts Moral Mondays, which began in Raleigh to protest laws passed by the Republican-led General Assembly this session. The weekly gathering received national attention after police started arresting protesters, ultimately about 1,000, in droves.
Charlotte's event was planned by the NAACP as well as other activist organizations, such as ActionNC and Greenpeace.
CMPD Captain Mike Campagna wandered through the crowd and was far more relaxed than officers were during last year's protests leading up to the Democratic National Convention, the last time Charlotte saw such activity. Except for a few hanging out below a building across the parking lot, barely any officers attended the rally, which lasted a little over two hours.
"We're not needed," Campagna said when asked about the low profile of the CMPD at Moral Monday. "We've been communicating with the organizers of this event and we've been watching what's going on in Raleigh, and we're not expecting any problems."
Though the crowd was a mix of races, ages and professions, it had a common enemy: Gov. Pat McCrory. Some in the crowd said they voted for McCrory in 2012 because of the reputation he had as a moderate mayor of Charlotte, a position he held for 14 years, but were disappointed by his performance as governor.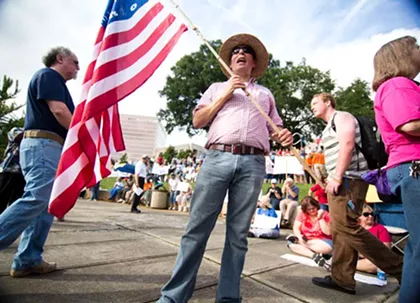 9 slides
Laureen Kickham, a Charlottean attending her first Moral Monday, said her distaste for the current regime started when the House passed a law in February making it a felony for a woman to expose her nipple in public. "I thought, 'These people must have more important things to do.' And now they are passing voter-ID laws and closing women's clinics. Everything they've done since they came into office has been horrible."
Kickham said she was happy to see the "eclectic group of people" who showed up on Monday evening and said that she would attend another Moral Monday in Charlotte. Protests are scheduled monthly, not weekly, though organizers haven't planned September's.
But many in the crowd, including local teacher Arnittra Henson, said the turnout could have been better.
"I wish there were more people," Henson said.
Also in the crowd were veterans of Charlotte's activist community. Ron Rabatsky participated in Raleigh's Moral Mondays and the Occupy Charlotte movement and was part of the Coalition to March on Wall Street South, the cohort of activists that orchestrated the largest protest during the DNC. He said crowds at the capitol might have been larger, but Charlotte's was nearly entirely native; not nearly as many people were bussed in like they were for Moral Mondays in Raleigh.
"People are here because they live here and they want to make a statement," he said. "It's true grassroots, and I love that. It's hard to get people in Charlotte excited enough to come out and do anything."
Luis Rodriguez, an organizer with ActionNC who helped bring Moral Mondays to Charlotte, was very happy with the turnout. He has been bussing people to Raleigh for months and was excited to see his hometown participate.
"I wanted to see this crowd, and this crowd came," he said. "It took weeks and weeks to get this kind of crowd in Raleigh. We used that momentum and Charlotte showed up like this right away."
Elected officials and candidates for office also attended Monday's rally. City Councilman John Autry, who has held a closer relationship with the local activist community than any other council member since being elected in 2011, is running for re-election. He used Moral Monday to mingle with his constituency.
"The fact that the General Assembly is not even in session right now and all these people still show up out here is amazing," he said. "It takes courage."