Linda Pierce had lived in Hidden Valley only five months when she got a disturbing taste of what it's like to be an innocent bystander.
It was 5:30 a.m. Her family -- husband, adult daughter, son and two grandchildren -- awoke to a loud banging on the door. Pierce's daughter opened the door to a gun in her face.
"It was terrifying," Pierce says, recalling the story from the living room of her modest north Charlotte home.
click to enlarge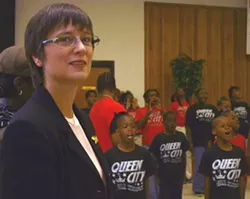 Legions of local, state and federal authorities had fanned out to several neighborhoods in the early morning, searching for men they believe to be members or associates of the Hidden Valley Kings. In all, police were searching for 20 men, but the guy they were looking for at the Pierce home wasn't there. Roscoe Abell, aka "Scoe" and "Big Bra," hadn't been there since before October, when the Pierce family began renting the Hidden Valley house.
It was the family's first home since moving to Charlotte from a small northwest Georgia home. They'd heard of 28-year-old Abell, but knew him only as a name on paper -- mail in his name still came to their address.
But in the predawn hours, it took time for authorities to realize the mix up. The family, including children ages 3, 4 and 12, stood in nightclothes as police searched every room, guns drawn. "My 12-year-old, he completely lost his mind," Pierce says.
The family had been unwitting bystanders in the largest gang arrest in years. "We just happened to move into the wrong house."
In recent years, talk of gangs in Charlotte has driven much of the public's concern about the city's crime rate. Some observers had tried to dismiss the existence of gangs, pointing to the problems that plague parts of larger metropolitan areas such as Los Angeles or New York. But the Hidden Valley Kings bust and other high-profile homicides have proven that while Charlotte certainly isn't L.A., it ain't Mayberry either.
Gangs the World-Class Way
Since Charlotte-Mecklenburg Police Department's Gang Intelligence Unit formed three years ago, authorities have documented about 150 gangs in Mecklenburg County and more than 1,900 gang members and associates. Capt. Eddie Levins says there are probably more groups in operation that the department doesn't know about. The numbers include everything from small groups of lawbreakers who've modeled themselves after the gang life depicted in pop culture to larger networks whose ranks include older gang members who have already served stints in prison.
The rising numbers reflect a trend as gangs continue to expand across midsized and even smaller communities across America. In 2005, more than 800,000 people were members of an estimated 30,000 gangs, according to the FBI.
Some Charlotte gangs, such as the Bloods and the Crips, emulate larger, nationally known counterparts. While dozens of local gangs may bear the Blood or Crip name, local police haven't found any cross-country affiliation. "We have no indication there's somebody in Charlotte sending money to a group in L.A. to support the overall function of the gang," Levins says. "Charlotte is mostly a hybrid city where you have neighborhood gangs who decided to take on the mannerisms and the customs of a specific gang. They think they know what they are, but most of them create their own rules."
But MS-13, or Mara Salvatrucha 13, is different. Often described as the most dangerous gang in America, it has been implicated in several homicides in Mecklenburg County. "We know that there is a communication network with a lot of those people because they're so transient," Levins says.
Mostly black males between ages 16 and 21, gang members in Charlotte have been linked to auto thefts, drug dealing, robberies and homicides. Twenty percent of people charged with robbery last year in Mecklenburg County were gang members, says Levins. In Charlotte, Levins says, even the majority of members of the El Salvadoran gang MS-13 are black.
But gang membership cuts across all races, classes and parts of town: One of the earliest groups that met the definition of a gang was the Dog Pound, made up mostly of white kids from affluent south Charlotte. And while women used to be strictly gang associates or girlfriends, Levins says, "they're taking active roles in crime; they're taking active roles in furthering the gang."
Some gang members have preyed upon Latinos they believe are illegal immigrants and thus less likely to report crimes to police. That has declined as the department has worked with Latin communities. The majority of the perpetrators were black, which some people have said created tension between racial communities. Other perpetrators, Levins says, were gang members coming, often illegally, from Central America, with the intent of ripping off other immigrants. "There was a ready supply of victims on a nightly basis that had pocketfuls of money, so you'd have groups of three to four people riding around in a car just spying victims like that in parking lots," Levins says.