Page 3 of 3
Regardless of the media images, many residents talk unhappily about the way the neighborhood has changed over the years. Pierce says neighbors have told her Hidden Valley once was a much nicer neighborhood. "Neighbors around here, they're pretty nice, the ones who've been here awhile," Pierce says.
click to enlarge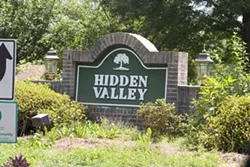 She doesn't feel safe now letting her children play outside, even though she believes the late March raid quieted down the neighborhood. Hidden Valley, with its occasional sounds of gunshots, was a far cry from Ringgold, Ga., just a few Interstate 75 exits south of Chattanooga, Tenn. "When it gets dark, everybody goes in."
That is, except for the kids that she believes are gang members. Then, they walk the streets, clad in long white T-shirts and extra baggy jeans. "They're just babies out there, being pushed out in this mess," she says.
The neighborhood is an anomaly of sorts. "There's not many areas like that," Levins says. Other gangs may congregate in other neighborhoods but commit crimes elsewhere. "They live with mom or grandmom ... and they don't want to do it close to home."
A Far Cry From Tripoli
Levins has been driving regularly to Raleigh to lobby for an anti-gang bill that would make it a crime to simply be in a gang, encourage someone to join a gang, threaten someone who wants to leave a gang or profit from gang activity. The measure also would provide tougher sentences for gang activity involving guns. Law enforcement groups have been pressing for this legislation, which could cost nearly $45 million the first year alone, for three years. While law enforcement and the N.C. League of Municipalities support the legislation, groups such as Families Against Mandatory Minimums say the legislation would expose teens to harsh sentences and a lifelong label as a gang member. The national group claims teens, as young as age 12 in the House version and 16 in the Senate version, could be deemed gang members simply for wearing similar hip-hop clothing and engaging in minor drug use offenses.
Levins says all people need to have an awareness of how gangs operate. "Now, should they walk around in fear? No, there's not indication that there's that high a number (of gang-related crime). There are random crimes throughout the city, but that's just like any crime. You need to take proper precautions no matter where you are. Whether you're at Eastland Mall or SouthPark, you've got to be just as cautious in either parking lot. There shouldn't be a hysteria about it."
Lest Charlotte's gang activity strike too much fear into your heart, consider this: The FBI estimates Los Angeles, the birthplace of the Bloods, Crips and MS-13, has 700 gangs with 40,000 members. And Chicago's notorious El Rukn gang had ties to international terrorism. The gang in 1985 brokered a deal with the Libyan government to attack "U.S. police stations, government facilities, military bases and passenger airplanes in exchange for $2.5 million and asylum in Tripoli," according to a 2006 report from the University of Virginia and George Washington University on prisoner radicalization. More recently than El Rukn, accused terrorist Jose Padilla has admitted to gang membership.
Of course, saying that gangs here aren't nearly as pervasive, organized or evil as they may be elsewhere isn't likely to be much consolation to people whose loved ones have been killed by gang members. Or in the Pierce family's case, even inconvenienced by them.
"If we had the money, we'd move out of here," Pierce says.