click to enlarge
When I heard that Jeff Hahne -- Creative Loafing's music editor -- was writing a story about tattoos, I couldn't help but feel a twinge of envy. How fun it would be to talk to people who'd been brave enough to undergo the pierce of permanence. I'd always wanted a "tatt" myself, but I'd never been able to bring myself to do it. That's always been my problem: fear of the unknown.
But when Jeff suggested that a nice addition to the story would be to have someone get a tattoo and write about it, I volunteered. Why? I'm not sure. Maybe it was the beer I was drinking at the time. Maybe a rebellious spirit took hold of me. Maybe I was just tired of being scared.
The day of my tattoo appointment, fellow Loafer and buddy Branna accompanied me to Nikki's Tattoo Studio on Monroe Road. I interviewed tattoo artist and owner Nikki Thompson a few months ago, and she seemed nice enough to show mercy with her needle.
After filling out some paperwork and drinking half a bottle of water to moisten my dry mouth (seriously, it was just water), I entered the room where Nikki would be expressing her artistic talent on my back. A flash of fear passed over me, and I briefly considered turning around and running out the door. Here I was, about to do something my mother had explicitly told me never to do. The last time I'd so outrightly disobeyed her (my pierced eyebrow), she stopped talking to me for weeks.
"Come on over here and let me get you ready," said Nikki, interrupting my panic attack. Pushing all thoughts of mom out of my head, I proceeded to pull up my shirt and let her clean my back. She placed a stencil on the area where the tattoo would be -- the right side of my lower back. I finalized my color choices (blue and green) and sat down in the chair, completely avoiding the sight of her putting her tattoo machine together.
"You might want to watch me do this," she said. "Then you'll know what's going on. I think the imagination makes things worse than they really are." I turned around quickly to catch a glimpse of the needle -- it was worse than my imagination.
click to enlarge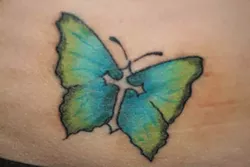 Once the buzz of the needle filled the room, my hand reached out for Branna. "Squeeze as hard as you want," she told me. And I did ... poor girl.
The outline was the worst part of it all. I gritted my teeth. I squeezed my eyes shut. When I opened my eyes again, I gazed up at the ceiling, seeing nothing but pain. I had to remind myself several times to breathe.
Once the outline was done, the coloring was next. By this time I was somewhat accustomed to the pain -- but that's not to say it was any easier. Suddenly, my hands began to shake. "It's the adrenaline," Nikki said. "Don't worry."
Thirty minutes after I'd entered the room, she was wiping my back clean. I stood up hesitantly, slightly afraid that my legs wouldn't work. But when I glanced into the mirror, I didn't see the swelling. I didn't see the blood. I saw a beautiful butterfly, its back outlined in a cross. As corny as this may sound, my tattoo is my first step toward conquering all of my fears -- spreading my wings and all that jazz.
All in all, the experience wasn't too bad. Hell, I've had a toothache that hurt worse than getting my tattoo. I know one thing, though: the whole notion about becoming addicted to getting tattooed is clearly not true for everyone.