On a cool April evening in Raleigh, 63-year-old Katie Glover sat down to a meal of vegetarian lasagna and fresh fruit. Glover had come from Charlotte to say goodbye to her little brother, Willie "Junior" Brown, who was scheduled to die by lethal injection at 2am the next morning. Glover would spend the next few hours with Willie Junior, vying for his time with a dozen other family members in the death-row visiting area. But first, Glover, her daughter and her granddaughter shared a quiet meal around the dining room table at Nazareth House, a Catholic Worker hospitality home for death-row families -- and a fulcrum of North Carolina's abolition movement.
click to enlarge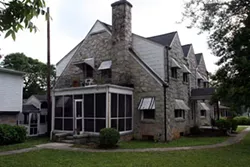 Among those gathered with Glover at the big round table were Scott Langley and Sheila Stumph, who founded the Raleigh Catholic Worker in a tiny rental house 18 months earlier, and Scott Bass and Roberta Mothershead, who joined with Langley and Stumph and bought this much larger house earlier this year in order to expand the Catholic Worker ministry.
In a few hours, the Catholic Worker activists would join others in trespassing on the grounds of Central Prison to protest the Brown execution. Stumph and Langley had been in court earlier that day with about a dozen other activists who faced charges of trespassing on state property for kneeling to pray in the prison driveway before executions in January and March.
Through these acts of civil disobedience, the founders of Nazareth House, along with several Duke Divinity School students, have been galvanizing members of the statewide People of Faith Against the Death Penalty and other anti-death penalty activists who gather at Central Prison on the nights before every execution. They carry signs proclaiming "Thou Shalt Not Kill" and whisper or shout charismatic prayers begging divine forgiveness for North Carolina's use of "human sacrifice" as an instrument of justice.
Some of the activists fret over how court dates, fines or jail time might affect their pregnancies or vacation plans, but their simple acts have energized an anti-death penalty movement stalled by a partisan split in the state House over what to do about evidence of false convictions, racism and classism in the judicial system. A death-penalty moratorium with wide public support languishes in a legislative committee while a bubble of inmates convicted during the trigger-happy '90s moves through the death chamber. The political wheels have turned too slowly for many of those inmates; 20 have died since the state Senate endorsed a moratorium. Activists such as those who run Nazareth House are trying to grease the gears.
The Catholic Worker movement is a network of laypeople who live in small house-communities such as Nazareth House and two others in Garner and Silk Hope. The movement calls on its members to exercise their Christian duty through political action and personal service to those in need. By offering hospitality to death-row families and helping them speak out against the death penalty, the members of Nazareth House are trying to focus attention on the human beings who suffer when the state chooses to take a life.
click to enlarge
Katie Glover and the rest of the Brown family hail from Martin County, about 100 miles east of Raleigh. Glover left North Carolina -- and her Jim Crow bonds -- as soon as she turned 18. She married and raised her children in Stamford, CT, far from the South and its eye-for-an-eye standard of justice. Since 1977, Southern states have been responsible for more than 80 percent of the nation's executions. Only Texas, Virginia, Oklahoma, Missouri and Florida have executed more convicts than North Carolina, and only 11 states have higher execution rates per capita. All but Missouri are in the South. North Carolina's murder rate per capita is twice as high as in Connecticut, where Glover lived most of her life. North Carolina's per capita execution rate is 14 times as high: Connecticut has executed only one murderer in the past 30 years, and North Carolina has executed 43. On average, the 38 states that use the death penalty have a 40 percent higher murder rate than those that don't.
For activists, that's evidence that capital punishment fails to deter violent crime and may, in fact, foster a violent society by modeling violence as a means to solve problems. To Glover, it shows the inequities of the nation's criminal justice system. Same crime. Different sentence. A mere 600 miles up I-95.
"One person lives and one person dies," said Glover, shaking her head, with still a hint of her coastal Carolina drawl. "I just don't understand."
Willie Junior was tried and convicted for robbing a convenience store and kidnapping and murdering the clerk, Vallerie Ann Roberson Dixon, in 1983. At least 490 murders were committed in North Carolina that year; just 11 convicted murderers were sentenced to death that year. Willie Junior beat nearly 50-to-1 odds and became one of them. His chances were even lower than normal, according to a UNC-Chapel Hill study, because Brown was a black man accused of killing another black.