Rockingham hasn't been known for much since NASCAR left town two years ago. To outsiders, the quiet town 70 miles east of Charlotte functions mostly as a pit stop on the way to Myrtle Beach. But two or three years ago, the residents had in their midst a medical record-setter.
The 10,000-population town was home to one of the busiest doctors in the state, probably even the country. Later, when he could no longer lay claim to such industriousness, this doctor would tell the North Carolina Medical Board he had treated 244,000 in eight months. That's 1,028 patients a day, not accounting for weekends off.
click to enlarge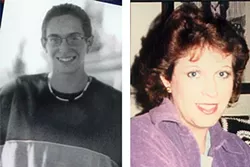 You might imagine this doctor's patients didn't linger long in the waiting room. In fact, they didn't even see him, much less know his name. The doctor approved questionnaire requests for medications; the doctor-patient relationship didn't even rise to the level of pen pal.
For all the good doctor knew, a grandpa from Dubuque, IA, who needed a little extra help in the bedroom, might have had high blood pressure, too. Or a homemaker in Salt Lake City who wanted a little help getting to sleep at night might have been taking those pills for years with no end in sight. Or a suicidal teenage boy from San Andreas, CA, might have, in fact, ordered those lethal antidepressant doses so he and his mother could kill themselves.
Can you guess which one slowed the busy doctor down?
Online Explosion
In the years since congressional investigators have been tracking Internet-based pharmacies, their numbers have multiplied almost tenfold. In October 2000, the General Accounting Office identified about 190 online pharmacies. Four years later, the number mushroomed to 1,400, according to what is now the Government Accountability Office.
As almost anyone who pays the vaguest attention to spam e-mail knows, online pharmacies are ready and willing to fill your prescription drug desires. Those e-mails clogging your account aren't just an electronic come-on: Armed with a credit card and an address, almost anyone can obtain whatever drug they want without leaving the house or facing a physician versed in the ways of doctor-shoppers.
Such availability, of course, arguably could be fine for a mentally healthy adult who has a realistic idea of the drugs she needs. But ask the rehab professionals whose patients got narcotics with the click of a mouse or the parents whose children have used online pharmacies to tragic ends, and you'll hear a dim view of such enterprises. These sites, they say, allow the irresponsible medical fringe to skirt the boundaries of good practice, and make a hefty buck while they're at it -- all while acting under a medical license that affords them the regard and good will that having an M.D. after one's name offers.
Some Internet pharmacies are legit, requiring that a valid prescription be faxed or mailed before medicine can be dispensed. Others are intended to save consumers money by routing prescriptions through Canadian pharmacies. Both are distinct from the type of Internet pill mill that doctors like Dr. Everett Echols have admitted participating in.
Creative Loafing tried to reach Echols at different times during the past year. He returned a phone message once. At 2:25am. "I'm kind of curious about what's on your mind," he said in that brief phone conversation, which took place last summer. A former compatriot who is named with him in a lawsuit said he hasn't seen Echols in about six months. And messages left in person and by phone at the house of Echols' father in Greensboro -- the same address Echols now lists on his voter registration -- weren't returned. But records in Tennessee and North Carolina, as well as conversations with those who have become intimately acquainted with his history, tell their own story.
A Deadly Business
Seventeen-year-old Ryan Kelly was an outgoing, musically inclined kid whom his grandmother, Candy Kelly, of Los Gatos, CA, hoped would go to college. During summers, he would help her at the senior-citizen apartment complex she managed. The older people loved him, recalled Candy.
His mother, 46-year-old Leisa Kelly, was a different matter. "I loved her to pieces, but she was always pushing people away," Candy said recently. For years Leisa had believed people were out to get her. Her suspicious nature made it difficult to hold a job, and by the end, Social Security disability payments made up the bulk of Leisa and Ryan's income.
By 2004, Leisa had driven away most people. In retrospect, Candy said, Leisa showed signs of schizoid personality disorder as far back as her teenage years. People with schizoid personality disorder are loners who show little interest in developing close relationships, even with family members.
But she had not driven away her son. When Leisa urged Ryan not to go to school, he stayed home. When Leisa wanted Ryan to drink with her, he did.
And in January 2004, when she wanted him to commit suicide alongside her, he agreed, Candy said.
Three months after Calaveras County sheriff's deputies found Ryan and Leisa, dead and holding hands on Ryan's bed, Candy Kelly turned to one person she hoped might offer some answers. "I don't know what I want to know from you," she recently recalled telling Ryan and Leisa's psychiatrist. "All I know is that I need something."
What the psychiatrist said next eventually would lead her all the way across the United States in search of answers: The anti-depressant Leisa and Ryan had used to overdose had not come from him. "I was stunned," she recalled. "I said, 'Well, who did they get them from?'"
That's when she first heard the name Dr. Everett Echols. Later, she would learn he told the medical board he authorized as many as 1,000 prescriptions a day, earning $3 a pop. He didn't even need to get dressed, much less don a white coat or hold a stethoscope to a patient's chest.
Echols, she would learn, was working for an online pharmacy called RX Medical. In doing so, he had become just a small cog in the wheel of an industry that runs counter to many state and federal laws yet largely eludes the investigators charged with shutting it down.
Here's how the industry works: A person who wants a medication -- most typically something for pain, impotence or weight loss -- fills out a questionnaire on a Web site that can easily be found by simply typing a few words into a search engine. This questionnaire is supposed to constitute a medical consultation. An anonymous doctor is supposed to review the questionnaire and authorize the prescription, which is transmitted electronically to a pharmacy that then mails the drugs to a person's home.
click to enlarge
This type of operation is what authorities suspect was going on at two pharmacies just north of Charlotte. The North Carolina Board of Pharmacy has alleged Woody Pharmacy, which has locations in Mooresville and Denver, was operating such a pill mill out of its stores. Its owner, Alvin Woody, did not return calls seeking comment but has denied the allegations elsewhere. The licenses of Woody and a handful of other pharmacists have been suspended pending a hearing. That hearing, originally scheduled for June 27, has been postponed until at least July 18, said Jay Campbell, the pharmacy board's executive director.
Drug treatment authorities in Charlotte say illegal Internet pharmacies have added another avenue for addicts to obtain their fixes. The illegal Internet operations can attract a different kind of user. "They're middle-class; they have credit cards; they don't really have access to the criminal element to buy drugs off the street," said Bob Martin, director of substance abuse services at Behavioral Health Center of Carolinas Medical Center -- Mercy Horizons. His colleague, counselor Ben Roberts, has termed it the "Desperate Housewives" phenomenon, after the popular TV show.
The doctors who work for such sites operate contrary to accepted medical practice and the law. The people who buy from them take chances with the medications they buy. Sometimes, the drugs come from countries where pharmaceutical standards or labeling is different. Other times, they aren't even the medication ordered. And sometimes, the drugs ordered are going to people with an addiction to feed or a disease that needs real face-to-face treatment -- and the results, as in the case of Leisa and Ryan Kelly, can be tragic.
Candy Kelly and her son, David, have sued the people and companies they believe violated either the law or professional duty and enabled Leisa and Ryan to commit suicide. The Kellys live in a state where suicides by Internet pharmacy drugs have drawn increasing scrutiny. Two other cases have received a lot of media attention: Ryan T. Haight, 18, of La Mesa, CA, died on Feb. 1 after overdosing on narcotics he bought online. And David and Sheila McKay, also living in California, sued after their son bought generic Prozac online, which he used to kill himself in August 2005. John McKay was 19.
No such cases in North Carolina have received known media attention. But several doctors have been disciplined for working for so-called pill mills. The frequency of sanctions has declined recently, "basically because of the seriousness of the action that we've taken against Internet prescribing and against these doctors," NC Board of Pharmacy spokeswoman Dena Konkel said. The board, through Konkel, declined to elaborate beyond what was available in public records.
Candy Kelly wonders why action -- permanent action -- wasn't taken against Echols sooner.
By most people's standards, Everett Echols probably shouldn't have been practicing medicine. In the early 1990s, convinced he and his medical partner had a cure for AIDS, Echols was contacting people who had the disease and promising them a cure. For a hefty price, of course.
He and Dr. Therial L. Bynum, who then were both living south of Nashville, TN, told patients to stop taking medically sound drugs like AZT and were swindling them into paying tens of thousands of dollars for what proved to be a useless concoction, according to records from the Tennessee Board of Medical Examiners. Echols and Bynum told a patient and a US Drug Enforcement Administration investigator posing as the man's uncle that they had cured at least 27 people of AIDS. They needed to cure 100 before making their discovery public.
The cure was extremely costly: $10,000 per patient in what they termed Stage I AIDS, $20,000 per patient in Stage II AIDS, and $30,000 per patient in Stage III. The doctors cautioned the recipient of the cure they would still test HIV-positive. But, they said, the body's T-cell count (a count of infection-fighting white blood cells) would increase and the disease would not spread. In reality, the concoction contained, among other substances, prednisone, which actually could harm the immune system of a person with AIDS.
Still, when the Tennessee medical board voted to revoke Bynum's license, he appealed. It wasn't that he disputed participating in the scheme, but rather that he still believed he had found a cure for a disease that in 1992 killed more than 23,000 people in the United States alone. The board wasn't swayed.
These days, a Dr. Therial L. Bynum operates a Web site about hypnosis that's illustrated with little Mortal Kombat-esque action figures. He did not respond to e-mail.
Short Suspension
Echols escaped with only a five-month suspension of his medical license and two years probation. When he tried to get off probation in 1993, the medical board told him he would have to undergo psychiatric evaluation. Two years later, the board allowed him to practice, as long as he remained in therapy and worked only in emergency rooms.
Echols soon moved across state lines, where the North Carolina Medical Board believed psychiatric treatment had reformed him. On May 20, 1995, the board authorized him to care for patients anywhere in the state. Anyone who looked up Echols' name in the North Carolina board's database -- the main way authorities make doctors' misdeeds public -- would find no evidence of his previous escapades.
Just seven months after receiving the board's vote of confidence, he was charged with distributing controlled substances while not being licensed by the DEA. He pleaded guilty in May 1997 to two counts of the felony charge and was put on probation. The medical board noted he had been disciplined five years earlier in Tennessee. "The Board was aware of this action of the Tennessee board when it issued Dr. Echols a license in May 1995, but issued the license expecting that the existence of the action of the Tennessee board would make Dr. Echols more circumspect regarding his legal responsibilities in the practice of medicine," read an order dated Dec. 7, 1998, and signed by then-board president Paul Saperstein and former executive director Andrew Watry.
Sometime around this time, Echols got to know Tom Chapman, a Rockingham man whom Kelly believes was involved in Echols' online enterprise. Echols was then doing exams for people seeking Social Security disability, Chapman said. He seemed nice and extremely outgoing. Four years later, Echols showed up on Chapman's doorstep looking for a place to stay. "When he came here, he said, 'I've got $40 in my pocket and I have no place to go,'" Chapman recalled.
click to enlarge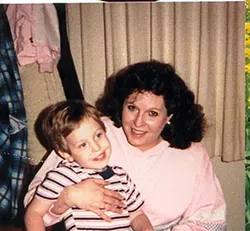 Chapman said Echols soon had a job possibility in Winston-Salem, substituting for doctors while they took vacations. But then Echols' wife showed up at Chapman's house and took Echols' car. Chapman offered to let Echols borrow his vehicle, but Echols declined. Instead, he said he would try something he learned about online. "He said, 'I'll do it this way,'" Chapman recalled.
"This way" was writing scripts for Internet pharmacies. Chapman said he thought Echols got involved by contacting someone in Florida who advertised online that he needed doctors. Chapman said he told Echols to check it out.
"That just doesn't sound right," Chapman remembered telling Echols. "That sounds too easy."
Echols told him he'd checked, and the operation was legit. Soon, Echols was parked daily in front of the computer. "He'd be on that thing from the time he got up in the morning till the time he went to bed at night," Chapman said.
Kelly doesn't believe Echols worked alone in Chapman's home. "They had two computers in that room. They were filling a thousand prescriptions a day," she said. "That was questioned quite a bit by the medical board. Even the medical board was looking at him like, there's just no way. [Echols and Chapman] were both pushing buttons because you could make twice as much money that way."
Chapman said he grew tired of Echols living with him in his three-story Victorian home. So Echols found a house a few doors down in the older, treed neighborhood -- the kind of neighborhood in which one might imagine a more established physician making a home. It was only a few months before when he had arrived broke at Chapman's door.
By July, the Internet business, with the DEA and the state medical board on Echols' tail, had soured.
Fragmented Law Enforcement
North Carolina's medical board doesn't have anyone devoted to ferreting out Internet pharmacists. Instead, it relies largely upon reports from the public and the Federation of State Medical Boards, said Dale Breaden, the board's public affairs director. Even that federation only nets a few catches each year. Its National Clearinghouse on Internet Prescribing buys medications from suspicious Web sites and pursues complaints against doctors and pharmacists connected with them. In the first three months of 2006, they placed three orders for drugs online and received two. In the clearinghouse's existence, they have only placed 44 orders. All but four prescription requests were approved, according to clearinghouse newsletters.
One problem is the fragmented nature of enforcement; i.e. just because a doctor has his North Carolina license taken away doesn't mean he's out of business. Case in point: Dr. Ranvir Ahlawat of Newark, NJ, surrendered his North Carolina license in March after allegations of online prescribing surfaced. But his medical license in New Jersey is still active, four months later. Pam McClure, a spokeswoman for New Jersey authorities, said the board couldn't comment on whether Ahlawat might be under investigation.
Efforts to make Internet pill mill activity a federal crime haven't made it out of committee. The federal Ryan Haight Act would prohibit doctors from prescribing medicine based on the kind of online questionnaires that Leisa and Ryan Kelly used. The bipartisan legislation also would allow state attorneys general to shut down illegal sites, even if the sites are operated out-of-state.
Martin, of Mercy Horizons, believes doctors who prescribe online to patients they don't know should be prosecuted. "That's drug-dealing," he said. "If you break your finger, would you want a hospital to examine you over the phone and tell you what to do?"
The rehabilitation center has seen an increase in recent years of patients who get drugs online. It wasn't too many years ago that Martin first heard about Internet pharmacies. A patient told him he had Vicodin delivered to his house.
"We were used to people just getting drugs the old-fashioned way -- buying it off the street or doctor-shopping," Martin said. "We now have patients that have stolen family members' credit cards, strangers' credit cards and neighbors' credit cards and had the pills delivered to them."
By making doctor shopping unnecessary, online sites allow a level of privacy that can make prescription drug dependency harder to treat. "It does present a problem, because it's more difficult to keep someone away from their source when their source is the Internet and the mail," Martin said.
Alanna Brewton, a counselor at Mercy Horizons, said people will work out deals with delivery truck drivers to make sure they only come at times when their addiction won't lead to them getting caught. "'If you can come at this time tomorrow, I'll give you a couple of extra bucks,'" she described. "Then their wife or their spouse won't be home. It's kind of like having your drug dealer come to your door every couple of days with a supply."
People with such problems now might wind up at Mercy Horizons only after family members find the credit card bills noting the online purchases. And Martin recalls that one patient, in an effort to escape detection, had her drugs mailed to an elderly couple next door. But the couple was immediately suspicious and called police; the patient ended up in rehab.
Some patients end up buying drugs online while they're recovering from accidents, counselors said. They get dependent on painkillers like hydrocodone, but their doctors aren't aware they're having problems. Looking for help, the patients type symptoms in a search engine -- and the results that pop up advertise easy access to narcotics.
The Final Days
Candy Kelly believes her daughter and grandson spent the last few weeks of their lives drinking and planning their suicides together. The last time she spoke with her daughter, Kelly was told that Ryan was sleeping. Candy heard the despair in Leisa's voice, but didn't think she sounded suicidal. "She was barely speaking, but that was not unusual. There was no indication that it was that serious. It was a normal depressed state."
Now, it seems clear to Candy that her daughter had problems from an early age. After high school, she flitted from job to job. Office work. Beauty school. College. For a while, she'd perform well. But then the problems surfaced. "She never stayed with anything very long," Candy noted. "She just couldn't work, because she couldn't really get along with people."
Ryan was frustrated with his mom's issues. Candy would ask him to live with her or his uncle. But Ryan would never acquiesce. "He was always feeling responsible, you know. He just couldn't leave her by herself. She'd be all alone.
"I just think that life was very hard for them," Candy continued. "I just can't imagine what it's like, always being paranoid, always assuming people are talking about you."
Candy Kelly has sued Echols, Chapman, Qualitest (a manufacturer of amitriptyline), the Web site RX Medical Services Corporation, and EZ RX, the online pharmacy. Her attorney, Laura Kail, of Encinitas, CA, believes Candy doesn't expect to get money from Echols, but she thinks the suit will raise awareness. At the very least, she hopes, he won't be able to move and practice medicine in another state.
On October 20, 2004, the North Carolina medical board revoked Echols' license. After October 20, 2006, he could try to get it back.
The day Leisa and Ryan Kelly died, they each took 45 pills of the antidepressant amitriptyline. Describing what she thinks happened that day, Candy Kelly's impassioned voice quietened. "They went into Ryan's bedroom. They laid on the bed. They held hands. And they died."