Page 3 of 5
He and Dr. Therial L. Bynum, who then were both living south of Nashville, TN, told patients to stop taking medically sound drugs like AZT and were swindling them into paying tens of thousands of dollars for what proved to be a useless concoction, according to records from the Tennessee Board of Medical Examiners. Echols and Bynum told a patient and a US Drug Enforcement Administration investigator posing as the man's uncle that they had cured at least 27 people of AIDS. They needed to cure 100 before making their discovery public.
The cure was extremely costly: $10,000 per patient in what they termed Stage I AIDS, $20,000 per patient in Stage II AIDS, and $30,000 per patient in Stage III. The doctors cautioned the recipient of the cure they would still test HIV-positive. But, they said, the body's T-cell count (a count of infection-fighting white blood cells) would increase and the disease would not spread. In reality, the concoction contained, among other substances, prednisone, which actually could harm the immune system of a person with AIDS.
Still, when the Tennessee medical board voted to revoke Bynum's license, he appealed. It wasn't that he disputed participating in the scheme, but rather that he still believed he had found a cure for a disease that in 1992 killed more than 23,000 people in the United States alone. The board wasn't swayed.
These days, a Dr. Therial L. Bynum operates a Web site about hypnosis that's illustrated with little Mortal Kombat-esque action figures. He did not respond to e-mail.
Short Suspension
Echols escaped with only a five-month suspension of his medical license and two years probation. When he tried to get off probation in 1993, the medical board told him he would have to undergo psychiatric evaluation. Two years later, the board allowed him to practice, as long as he remained in therapy and worked only in emergency rooms.
Echols soon moved across state lines, where the North Carolina Medical Board believed psychiatric treatment had reformed him. On May 20, 1995, the board authorized him to care for patients anywhere in the state. Anyone who looked up Echols' name in the North Carolina board's database -- the main way authorities make doctors' misdeeds public -- would find no evidence of his previous escapades.
Just seven months after receiving the board's vote of confidence, he was charged with distributing controlled substances while not being licensed by the DEA. He pleaded guilty in May 1997 to two counts of the felony charge and was put on probation. The medical board noted he had been disciplined five years earlier in Tennessee. "The Board was aware of this action of the Tennessee board when it issued Dr. Echols a license in May 1995, but issued the license expecting that the existence of the action of the Tennessee board would make Dr. Echols more circumspect regarding his legal responsibilities in the practice of medicine," read an order dated Dec. 7, 1998, and signed by then-board president Paul Saperstein and former executive director Andrew Watry.
Sometime around this time, Echols got to know Tom Chapman, a Rockingham man whom Kelly believes was involved in Echols' online enterprise. Echols was then doing exams for people seeking Social Security disability, Chapman said. He seemed nice and extremely outgoing. Four years later, Echols showed up on Chapman's doorstep looking for a place to stay. "When he came here, he said, 'I've got $40 in my pocket and I have no place to go,'" Chapman recalled.
click to enlarge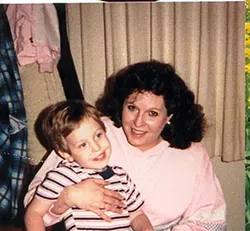 Chapman said Echols soon had a job possibility in Winston-Salem, substituting for doctors while they took vacations. But then Echols' wife showed up at Chapman's house and took Echols' car. Chapman offered to let Echols borrow his vehicle, but Echols declined. Instead, he said he would try something he learned about online. "He said, 'I'll do it this way,'" Chapman recalled.
"This way" was writing scripts for Internet pharmacies. Chapman said he thought Echols got involved by contacting someone in Florida who advertised online that he needed doctors. Chapman said he told Echols to check it out.
"That just doesn't sound right," Chapman remembered telling Echols. "That sounds too easy."
Echols told him he'd checked, and the operation was legit. Soon, Echols was parked daily in front of the computer. "He'd be on that thing from the time he got up in the morning till the time he went to bed at night," Chapman said.
Kelly doesn't believe Echols worked alone in Chapman's home. "They had two computers in that room. They were filling a thousand prescriptions a day," she said. "That was questioned quite a bit by the medical board. Even the medical board was looking at him like, there's just no way. [Echols and Chapman] were both pushing buttons because you could make twice as much money that way."