click to enlarge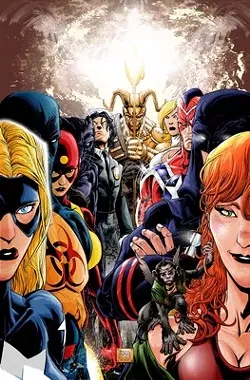 JSA All-Stars No. 1
Published by DC Comics. Written by Matt Sturges. Art by Freddie Williams II.
The Deal: The world's first superhero team — the Justice Society of America — splits into two different units with the launch of its JSA All-Stars group. The new crew, led by familiar face Power Girl and new kid Magog, seems to be focused on more hardcore training of young heroes and being a little more aggressive with bad guys. I guess.
The Verdict: I've been worried about this series since I first heard about it months ago. I know the JSA has way too many members and the idea of having two teams is a logical one; however, the actual rationale that's presented for breaking off into a new team is silly. And, honestly, the new team's mission seems pretty identical to the old team's mission. The art, by Freddie Williams II is fresh, modern and full of kinetic energy — bu the story is lacking. Oh and, by the way, why is DC so intent on shoving Magog down everybody's throat? I actually enjoyed the first few issues of Magog's solo book, but — seriously — there is nothing extraordinarily exciting about the character. Is this part of the Alex Ross-ification of the DC Universe? Red Robin, Red Arrow, Starman's new costume ... and now Magog in every DC comic. I'm not feeling it.
Reviewed materials provided by Heroes Aren't Hard to Find: www.heroesonline.com.