OK folks, Wednesday — aka "New Comics Day" — is almost here, so it's time for me to dispense with a bunch of reviews from last week's pile. Here goes the first batch:
click to enlarge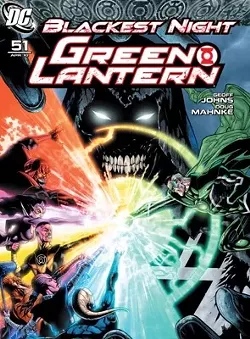 Green Lantern No. 51: I've really been enjoying the Green Lantern tie-ins for DC's Blackest Night limited series. The GL issues have definitely served to move forward the overall story and tell tales that happen between BN's panels. That said, has anyone else noticed that the main bad guy in this story line — Nekron — really hasn't done anything? Well, except for stand around and talk tough and look ugly. I'll still keep reading ... but I'm just saying.
Green Lantern Corps No. 45: Another Blackest Night tie-in ... and this one puts a creative close to Guy Gardner being a Red Lantern. Action-packed, drama-filled and sporting some amazing art by Patrick Gleason.
DoomWar No. 1: I was convinced I would hate this limited series starring the Black Panther(s), the X-Men, the Fantastic Four and more (battling against Dr. Doom). But the comic is slightly enjoyable. Well, the story is slightly enjoyable; the art, however, (by Scot Eaton) is pretty lackluster. I usually like Eaton's work, but this stuff looks sloppy.
Captain America No. 603: Wow, way to make Falcon look like a chump AGAIN. Didn't Christopher Priest prove he was cool in the 1980s with the Falcon mini-series? He sure comes across like a fucking punching bag these days.
Invincible No. 70: I've really been enjoying this comic lately. The stories are fun-filled and chock full of gore and extreme violence — you gotta love it! And Ryan Ottley's art is just too damn good.
Wolverine: Weapon X No. 10: Writer Jason Aaron is penning the types of Wolverine stories I like to read. That's it.