click to enlarge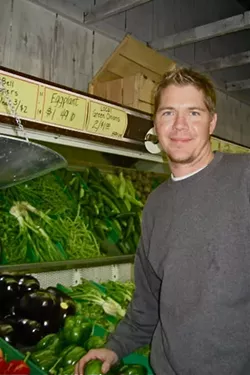 Jason Surface is the manager of the family-owned business Hillbilly Produce Market. Hillbilly is tucked away inside an enormous garage located on East Independence Boulevard. But this isn't your average market, and Surface has expanded the merchandise from more than just produce.
Creative Loafing: What's the history behind this place?
Jason Surface: My father, Marshall Surface, opened Hillbilly back in 1984. 25 years. He originally had produce markets in West Virginia, but moved because the economy wasn't doing so great. I worked here through high school. I was always around it.
Tell us about the items you sell here at Hillbilly.
We do sell more than just produce. We've got an entire gardening section, a large selection of beverages, candy and even some furniture pieces. Dog houses are outside. There are trees at Christmas time, and plants in the spring.
How do you compete with the chain supermarkets?
First of all, we are a lot cheaper. Much cheaper. And we buy locally whenever it's available. We've been getting watermelons from the same place for years; we go straight to the farm to pick them up. Our customers know us, and we get to know them.