Tempeh and Qunioa Stir-Fry
Stir-fries are the first thing I think of when I get a hankering for an Asian-inspired meal. They're so incredibly simple, healthy, and easy to make. You can literally make a stir-fry with most anything in your fridge. Well, except leftover birthday cake. What I mean to say is that you can make a stir-fry with most any vegetable, grain, and protein in your fridge.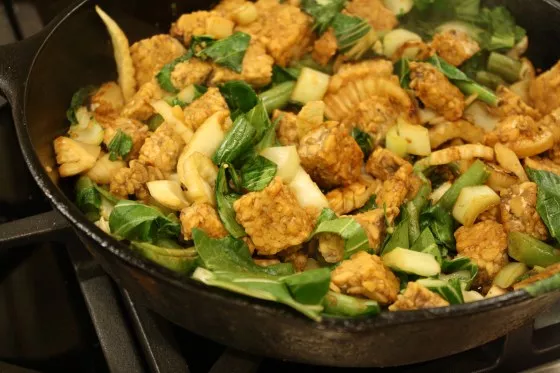 The simplicity of a stir-fry
When I first started cooking meals for myself as a junior in college, stir-fries were one of my go-to's (Note to Mom: I did eat actual meals in college, Mom. They were just of the easy-mac and dining hall variety).
Back then, I lacked creativity. Every stir-fry, without fail, consisted of chicken, rice, green peppers and soy sauce. It was only more recently that I've changed my stir-fries up quite a bit, and that includes adapting my sauce of choice (soy sauce) to something a bit more unique. Trust me, fig jam sounds a bit odd in a stir-fry recipe, but I assure you, it's very tasty and adds a slight sweetness that makes this dish.
In this particular recipe, I chose the powerhouse duo of protein: tempeh and quinoa, but if you prefer chicken, by all means, use chicken. If you would rather enjoy the traditional rice, feel free to make that substitution as well.
Stir-fries are flexible like that.