This past Sunday, under two giant tents, the American-Vietnamese community of Charlotte celebrated the Vietnamese New Year at St. Joseph Vietnamese Church. The day was packed with activities for all ages including games, traditional singing and dancing, acting and, of course, lots of food. The main events of the day were without a doubt the egg roll and pho eating contests.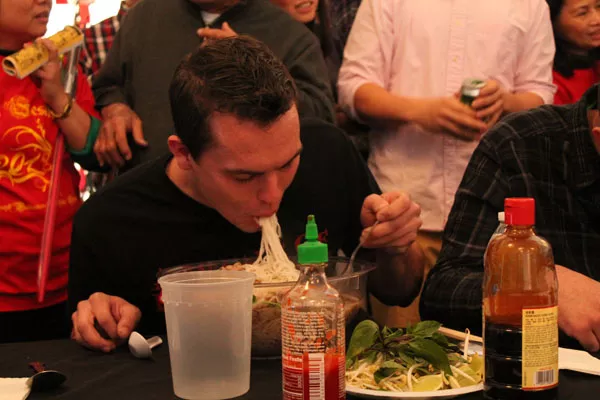 - Matt Poilock shovels noodles into his mouth as he races the clock during the pho eating contest.
People packed the tents and were standing on anything and everything to be able to see the action. Dominating both events was World Champion competitive eater, Dale Boone, who ate 21 egg rolls and just under two pounds of pho, a traditional Vietnamese dish consisting of rice noodles, meat and broth.
Other events included a countdown to the New Year followed by dragon costumed performers. Teams of two men hid under costumes to create the illusion of a real-life dragon as they weaved through the crowd. The day also provided plenty of games for the kids, with chances to win prizes.