You'd think Nan and Byron's owners would be leery of change. The rustic eatery's aesthetic is clearly derived from the iconic Grant Wood painting of a pitchfork-wielding farmer and his spinster daughter. Edison light fixtures adorn the interior, as do vintage furnishings and reclaimed barn wood. The food is classic comfort (though hardly dull).
But Nan's isn't stuck in the past. The newly minted SouthEnd staple has announced it is making a change in the central part of its kitchen: Kyle Rhodes, formerly the chef de cuisine at 5Church, is its new executive chef.
George Lainis
Rhodes is a fan of breakfast, though he doesn't think it has to be eaten first thing.
Rhodes says he's using the change as motivation to keep growing. "Nan's was and is a challenge for me. It's my first executive chef position. To step into this spot with support and leadership has made this transition a pleasure instead of a disaster."
Expect changes to the menu in early October that Rhodes wouldn't specify. But don't worry; crowd favorites like the filet mignon and the meatloaf are sticking around.
For all you brunch fanatics, don't start crying into your mimosas just yet. Nan's weekend-morning ritual — which offers everything from a traditional Southern breakfast, vanilla French toast and smoked salmon with bagels — is a large part of the restaurant's identity and will remain, too.
Rhodes is a huge fan of the day's first meal, though it doesn't have to be eaten first thing. "Breakfast is the most important meal no matter what time you wake up."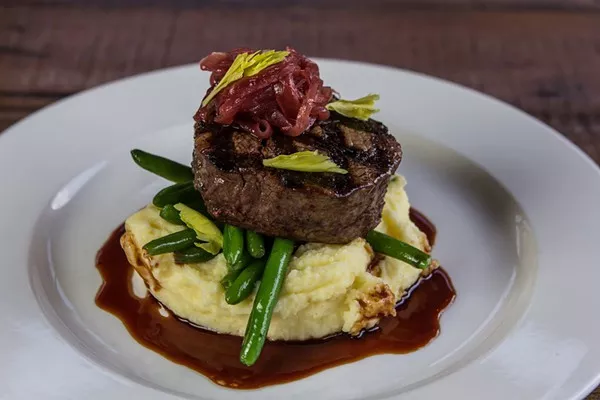 Courtesy Nan's Facebook page
The filet mignon will stick around.